By
Phil
- 21 October 2019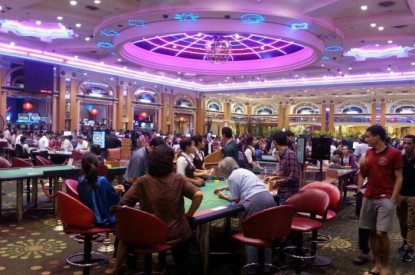 A tough last year and a half of trading could be easing off for Cambodian and Vietnamese casino group Donaco International, who has shown a 'very strong improvement' in GGR.
The Australian-listed casino group has become embroiled in an operating nightmare at its Cambodian casino StarVegas and has been forced to initiate a series of lawsuits against Thai businessman Somboon Sukcharoenkraisri, the man who it bought the casino from, claiming that he has breached non-compete disclosure, 'poached' VIP junkets and staff and threatened its player base.
Despite these ongoing disputes, revenues at Star Vegas increased by 42 per cent to AU$24.3m and Group EBITDA shot up by 167 per cent to AU$8.9m.
Donaco highlighted tighter management of corporate costs which were reduced by 19 per cent. At Star Vegas, the overall revenue increase was three per cent and the overall EBITDA increase was seven per cent. At the Aristo, the overall revenue increase was 164 per cent, and the EBITDA increase was 1,163 per cent.
Ben Reichel, Donaco's Executive Director, said: "During the September 2019 quarter, the new management team at Star Vegas began rationalising the VIP junket arrangements, with a focus on eliminating poor quality business practices, and improving margins. Accordingly, while VIP turnover declined due to the departure of unprofitable junkets, net revenue increased. This was partially due to an improved win rate, which in turn is partially attributable to better operating procedures. The VIP win rate will always fluctuate on a month to month and quarter to quarter basis. The months of July and August showed even stronger VIP win rates, but the September month was weaker."
He added: "Fluctuations in the VIP win rate are a normal feature of gaming operations, and are to be expected. However better operating procedures can assist to manage this risk. The slight increase in operating expenses was due to higher legal costs caused by the dispute with the Thai vendor, and additional diesel costs for back-up generators, due to national outages in the electricity grid in Cambodia.
The new management team led by CEO Paul Arbuckle has just begun to implement improvements in operating procedures, which are expected to generate further improvements in results in future periods.
"The increase in revenues is pleasing given that the September quarter is traditionally not a particularly busy quarter for either of the Company's casino properties. The public holiday calendar in Cambodia and Vietnam tends to skew the results towards the June half year," Mr. Reichel added.
The company is also considering a name change to Pan Asian Leisure as it looks to 'a new beginning for the company, to leave the past behind.'