By
Phil
- 23 April 2021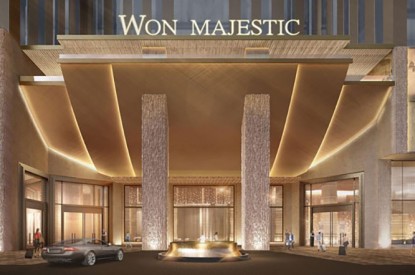 Malaysian-born WA Hospitality will be taking its first steps into the Sihanoukville casino market in Cambodia with the opening of the Won Majestic Casino Hotel & Resort Cambodia in the first quarter of 2022.
Located close to the idyllic Sokha beach, the casino resort will feature a 5-Star Hotel Tower with luxury suites and studio rooms, a swimming pool, gym, three restaurants, guest lounge and a 27,000 square-foot casino.
Towering over 28 stories, the 120m high building offers customers views from the sky bar overlooking Sokha, Independence, Ratanak & Ochheuteal beach. It is located minutes away from the busy Golden Lions Roundabout, eateries and entertainment venues. The development will also house 313 Grade A Offices coupled with online bookmaking licenses, 270 units of luxury services apartments, and retail outlets.
The company said: "Won Majestic is confident of delivering quality environment friendly architecture, lush interior and most importantly a development build with pride, passion and perfection."
WA Hospitality's Executive Director, Ally Bhoonee, added: "It is not your typical casino hotel as this one will be right next to the beach and it will be an upscale, five-star property. The hotel concept is to provide entertainment and excellent personalised service."