By
Lewis
- 3 June 2020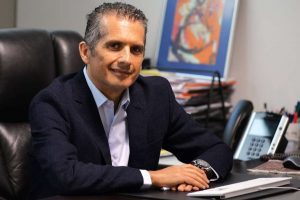 Eric Benchimol believes that CMS can help operators abide by the rules.
How has the pandemic impacted Win Systems? What measures were taken?
First of all, from Win Systems we'd like to share our solidarity and support with everyone who has lost loved ones during this terrible crisis, while wishing a speedy recovery to all patients.
At the very first moment of the pandemic, our priority was to protect the health of our employees. This is why we closed our nine offices and two plants worldwide and we organised our staff to work remotely from home, even before the recommendation of local authorities to do so.
Our next priority was our finance health; thanks to the trust of our partners and investors in the company, we adopted the required actions to minimise the economic impact in our business. After this, our priority was start working on how to support our clients when they are able to reopen their casinos.
What are you developing to back the casinos when they reopen?
We are working with two main priorities: the first one is helping casinos to maximise their income and profitability in such a complex business environment. Our second priority, of course, is to facilitate the efficient accomplishment of hygiene and social distancing measures, both for players and for the casino staff.
How can Win Systems help casinos to maximise their income and profitability?
Firstly, we want the casinos to offer 100 per cent of their machines for their players, there is no need to block any of the machines in advance to maintain the social distancing between players. Thanks to the PlaySafe functionalities we developed within our casino management system Wigos, we can achieve both objectives at once.
In parallel, our development teams in Gaming are working very hard to make our offer of slot games for GameStar, and the electronic roulette range for Gold Club even more attractive. The aim is to have the whole of the casino active for players while making it as engaging as possible; this is the way we can maximise the income and the profitability of the operators.
How can casinos operate effectively under social distancing guidelines?
The new Wigos PlaySafe functionalities allow maintaining social distancing between players, even without security screens. We do so by automatically disabling the adjacent machines to the one that is being used. When the player finishes the game session, the system automatically disables the slot machine until it has been disinfected by the staff, and the machines at the sides are enabled again.
Wigos PlaySafe also reduces the need of physical contact of the casino employees with the gaming machines, it suggests similar machines to players if they want to play a machine which is disabled, etc. It provides a wide and powerful set of functionalities, which are also flexible and adaptable to every casino and every situation.
What other priorities are you working on?
Close contact with our clients is our signature, and we have been in permanent contact to understand their situation and to respond to their needs. We're willing to facilitate as much as we can in these difficult times, and also at the reopening. And not only for casinos, we've also been very active in developing our systems for arcades, as well as in the Lottery Division. We're trying to take the most out of these days of inactivity in our sector.
What do you think companies have learned from this difficult situation?
This pandemic halted our sector (amongst many others) in a very short period of time, companies had no time to react. I think that those businesses with strong strategic plans, which are diversified, strongly supported by partners and investors, and also flexible enough, will have better chances after this terrible crisis. And I'm sure this is the case for Win Systems.
Temporary closure of land-based casinos has enabled the online sector to grow. Do you think this trend will remain in the future, and how will it change players' behaviour in the long term?
We always said that land based and online game are progressively meeting and merging. Each one has its own benefits, and players can choose one or the other in different moments, as they are complementary. Without doubt, as soon as the land based casinos reopen, players will be back (with protection measures, of course).
Land-based casinos offer some features such as social relation, side services, personal attention that are highly appreciated by players. The same players might prefer playing online later, they are both necessary and add value to our industry.