By
Phil
- 20 April 2015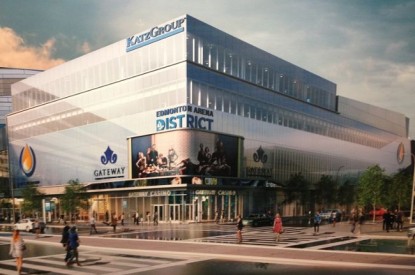 Gateway Casinos & Entertainment is to close the Baccarat Casino in Edmonton and replace it with a new premier, upscale casino and entertainment property in the Edmonton Arena District.
The project will bring up to 200 new permanent jobs and a $32m investment to the Edmonton economy. In addition to this long-term investment, the project will result in 450 person years of construction employment.
Gateway will build the Grand Villa Edmonton Casino, Gateway's most premium brand, featuring a spectacular gaming floor with exciting entertainment and an array of dining and culinary options to suit any taste including their signature restaurant – Match Eatery and Public House.
"The EAD is literally changing the landscape in Edmonton and we're thrilled to be a part of such a dynamic, world class development," said Tony Santo, CEO of Gateway Casinos & Entertainment. "The Grand Villa Edmonton will deliver a gaming and entertainment experience unlike anything in Edmonton – first class gaming, dining and entertainment all in the centre of the action in the EAD."
With over 60,000 square feet of entertainment space, the Grand Villa Edmonton will be an exceptional addition to EAD. Construction is to begin in fall 2015 with a grand opening scheduled for summer 2016.
"Gateway Casinos & Entertainment Limited is an established gaming and entertainment operator in Western Canada," said Daryl Katz, Chairman of Katz Group. "We believe this new, full-service, upscale casino will be a valuable and exciting addition to the Edmonton Arena District and will provide patrons a first class experience."
The announcement at the Edmonton Chamber of Commerce was attended by a number of local
leaders and politicians including Simon O'Byrne (Past Chair, Edmonton Chamber of Commerce),
Councillor Scott McKeen (Ward 6 – City of Edmonton), Glen Scott (Senior VP, Katz Group), and
Susan Green (Acting Chairman, AGLC).
"At the AGLC we strive each day to create progressive, socially responsible gaming experiences for
Albertans," said Niaz Nejad, Vice President Lottery and Gaming Services, AGLC. "The construction of a first class gaming facility in the Edmonton arena district will provide Albertans with a dynamic and modern entertainment option."
Gateway currently owns and operates the Baccarat Casino, which will close with the opening of the Grand Villa Edmonton. The 200 employees of the Baccarat will move to the new location. When fully staffed, the Grand Villa Edmonton will have approximately 400 employees. Gateway will hold job fairs in early 2016 to help fill the new positions in advance of the Grand Villa's Grand Opening in summer 2016.