By
Phil
- 6 June 2019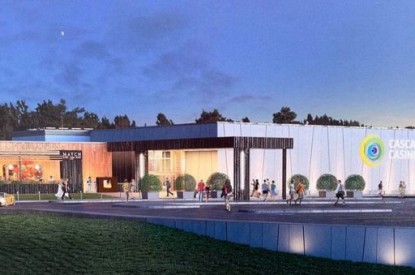 Gateway Casinos & Entertainment will invest approximately $31m to build the new Cascades Casino North Bay and create up to 300 new jobs in the City of North Bay, Canada.
The proposed new casino, spanning over 39,000 square feet, will feature 300 slots and eight live table games. It will also be home to Gateway's signature restaurant brands, MATCH Eatery & Public House and The Buffet. The new casino is expected to open in mid-July 2020.
At a ground breaking ceremony this morning, Gateway Casinos Chief Marketing & Communications Officer, Carrie Kormos, was joined by Ontario Minister of Finance and Nipissing MPP, Vic Fedeli; North Bay Mayor, Al McDonald; and Ontario Lottery and Gaming Corporation Chief Operating Officer, Lori Sullivan, to officially signal the start of construction on the new casino.
"Gateway is delighted to be coming to the City of North Bay. We are proud to be one more reason to make this city your entertainment destination. This is the first time Gateway has put shovels in the ground in northern Ontario and we are very excited to be offering the citizens of North Bay a new and exciting entertainment and dining experience in their city. Today's investment of $31 million will not only create 300 new jobs in North Bay, but will also provide millions in economic spin-offs throughout construction and with locally sourced goods and services when completed," said Carrie Kormos, Chief Marketing & Communications Officer for Gateway Ontario.
"This is one of the most significant economic development projects in the city in recent years, and will contribute to economic activity in several ways," said Ontario Minister of Finance and Nipissing MPP, Vic Fedeli.
"We welcome Gateway to the community. Their casino development will bring new jobs to the area and significant economic spinoffs," said North Bay Mayor Al McDonald.
"OLG is pleased Gateway is breaking ground on the first new casino in Northern Ontario," said OLG Chief Operating Officer, Lori Sullivan. "The investment Gateway is making in North Bay will help ensure the best possible gaming experience for customers while OLG continues to deliver on its commitment to the people and Province of Ontario."
Central to Gateway's success has been the development of proprietary casino and restaurant brands. The Cascades brand is built around the design inspiration of "Play". The new property would be a local entertainment destination that will truly redefine entertainment with an array of dining and entertainment options to suit any taste. Gateway has successful Cascades properties in Langley, Kamloops and Penticton, BC and is set to open the first Cascades in Ontario this July in Chatham-Kent.
Gateway Casino's signature brand MATCH Eatery & Public House combines the welcoming and social traditions of a neighbourhood pub with the high energy and excitement of a sports bar. Whether it's the big game, a family celebration or just a social gathering with friends, MATCH Eatery & Public House provides a casual, upbeat atmosphere ideal for any occasion. The Buffet equally complements the MATCH experience with an emphasis on exceptional value and an ever-changing menu highlighting cuisine from around the world with something for every age and appetite.
The proposed new entertainment and casino complex in North Bay is the latest announcement by Gateway following the news last month of the completion of an $18m renovation and rebranding of Gateway Casinos Hanover site to Playtime Hanover. Gateway is currently nearing completion of a new $36 million Cascades Casino in Chatham-Kent opening this July. Gateway recently opened its first Starlight Casino in Point Edward, Ontario after a $26m renovation to that site. Gateway also added 26 live table games to the Gateway Casinos Innisfil in a $5m renovation to the gaming floor and is proposing to build a new casino and entertainment complex in Wasaga Beach.