By
Phil
- 13 February 2015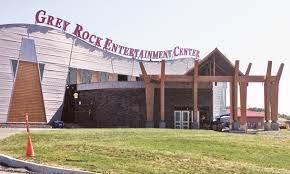 International Game Technology has secured an impressive 100 percent slot floor share and an inclusive systems deal at Grey Rock Entertainment & Casino in New Brunswick, Canada.
Slated to open this month, Grey Rock will boast a slot floor comprised of 100 of IGT's industry-leading slot machines and a comprehensive suite of IGT's casino management systems and tournament technology.
IGT's deal with Grey Rock includes the installation of IGT's full Advantage System suite, including Machine Accounting and Patron Management, tools designed to help Grey Rock filter player data and improve casino floor efficiencies. Grey Rock will also deploy two of IGT's most esteemed systems products, sbX Floor Manager and sbX Analytics.
Both sbX Floor Manager and sbX Analytics enable Grey Rock to maximize player excitement and access casino floor performance data in real time. Players at Grey Rock will enjoy IGT's Service Window, an in-screen window that delivers personalized marketing promotions, bonus options and a convenient portal for patrons to order beverages, make dinner reservations and more. Grey Rock has also taken on IGT's Tournament Manager, the industry's leading tournament technology available for both slot and video poker tournaments.
"We are very proud to partner with Grey Rock and leverage our experience and game library to help them build the most exciting gaming destination in the region," said David Flinn, IGT Canada Executive Director and General Manager. "By taking both IGT games and systems, Grey Rock is uniquely positioned for success; they have the tools they need to run a smart casino business and the flexibility they need to cultivate floor-wide excitement for their patrons."
"We are creating the most modern casino experience in the area and IGT games and systems are the backbone of that vision," saidJohn Bernard, Grey Rock Entertainment & Casino Owner. "IGT is known for delivering exceptional products and creating the most impressive game library in the world. For Grey Rock to be a world-class destination, it's imperative that we partner with world-class providers such as IGT."