By
Phil
- 28 May 2015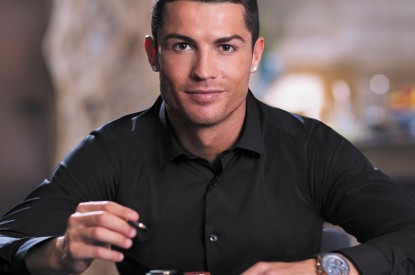 Portuguese football superstar Cristiano Ronaldo has joined Team PokerStars as a brand ambassador and will promote the game and the PokerStars brand in global marketing campaigns for Amaya.
The superstar player announced his new role via a personal video placed on his Facebook page. where he is the most followed person on the ubiquitous social site with more than 103m fans. In addition to his huge Facebook following, he has amassed over 35.5m followers on Twitter.
"I like playing for winning teams and PokerStars is the perfect partner for me," Ronaldo said. "As a brand, it is always looking at ways to improve and stay ahead of the curve, and as an athlete that is something I truly respect. I started playing poker a few years ago and I love the competition, strategy and fun. I'm looking forward to taking my game to the online and live poker tables and meeting my fans head to head. Although football is my world, poker has always been my game. I'm very excited to join the team."
"The poker table is not a new arena for athletes, as many have, over the years, sought other ways to satisfy their love for competition, and pursue challenges. Ronaldo is one of the most famous names in the world and PokerStars is thrilled to partner with him. We look forward to him spreading his love of the game worldwide by sharing his PokerStars experiences with his huge social following and fan base," said Michael Hazel, interim CEO of PokerStars.
Amaya Chairman and CEO David Baazov said: "Ronaldo is part of a new generation of global superstar athletes that work hard, play smart and encourage their fans to share in their lives. We're proud that Ronaldo – and fellow elite player Neymar Jr – have chosen to make PokerStars a partner in their journey and to share their love of the game of poker with their legions of fans."
Ronaldo will promote PokerStars in advertising campaigns, and make special appearances in major live events and online poker tournaments. An event scheduled for later this year will even see his fans win a chance to meet and challenge him at the poker table.
As the newest member of Team PokerStars, Ronaldo joins a winning team of some of the best poker players in the world, as well as other renowned athletes including one of football's all-time greats Ronaldo Nazário, Olympic gold winning field hockey captain Fatima Moreira de Melo, Brazil's star striker and team captain Neymar Jr, and 14-time tennis Grand Slam winner Rafa Nadal.
Ronaldo will play on PokerStars under the User ID 'C.Ronaldo'.
This is the second major signing by PokerStars this month, having announced Neymar Jr as a brand ambassador on May 7. The signings are part of the company's investment in attracting mainstream consumers to poker.