By
Phil
- 6 April 2021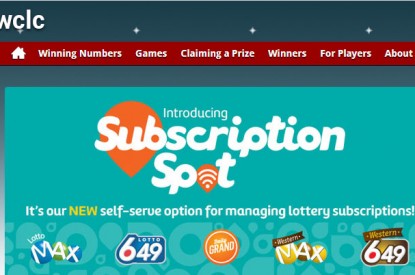 Scientific Games has launched a new online iLottery subscription program for its longtime Canadian customer, Western Canadian Lottery Corporation.
Called Subscription Spot, the new program is available via the WCLC website and is the first instance of a true digital offering for players, allowing online purchase of lottery games and creating a pathway to digital modernization with a larger online presence for the Lottery.
"This is a major milestone and big success story for WCLC as it is our first offering of an online purchase methodology for lottery products, supporting our plans for modernization through digital channels," said Brad Wiebe, VP of Marketing for WCLC. "The subscription system provided by Scientific Games is strategic to our growth as we enter an entirely new digital era for WCLC and our players."
The WCLC launch in Canada expands Scientific Games' growing iLottery and digital lottery business. The Company provides omni-channel iLottery and digital promotions programs, platforms, game content, and services to more than 30 lotteries worldwide.
At the foundation of WCLC's new digital initiative is Scientific Games' player account management (PAM) platform and purchase-enabled web-services. Players may purchase subscriptions for LOTTO MAX, LOTTO 6/49, DAILY GRAND, WESTERN MAX, WESTERN 649 and EXTRA games for up to 104 drawings through Subscription Spot. The subscription can be set up in minutes, allowing the player to participate immediately. The Company's software offers geo-fencing, age verification and alignment with other rules and regulations.
The subscription allows WCLC to connect to their players directly with marketing and promotions, while offering self-service, which has emerged as a valuable sales channel when access to retail stores becomes a challenge.
"Scientific Games is extremely pleased to evolve our lottery systems and services in a manner that supports WCLC's long-term strategic plan and facilitates continued, responsible growth across its business to generate maximum proceeds for the governments it serves. This is another great example of Scientific Games' focus on omni-channel solutions that modernize the way lottery products are sold," said Byron Bridger, Canada Account Director for Scientific Games.
In addition to central gaming systems technology, the new PAM platform and online subscription program, Scientific Games provides WCLC with a sports betting solution and Scratch'n Win instant games. With a major facility in Montreal, the Company supplies instant games to four Canadian lotteries and the Interprovincial Lottery Corporation.
WCLC is a Canadian non-profit organization authorized to manage, conduct and operate lottery activities as agent for the governments of Alberta, Saskatchewan and Manitoba, as well as the Yukon Territory, Northwest Territories and Nunavut.
Scientific Games launched the world's first secure retail instant game in 1974, the first digital instant game in the U.S. in 2014, and is the leading provider of lottery interactive games, mobile apps, player loyalty programs and other interactive products and services in the U.S. lottery industry. The Company provides games, technology and services to more than 150 lotteries around the globe, including nearly every North American lottery.