By
Lewis
- 6 September 2021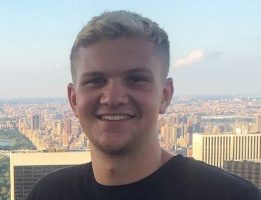 Checkd Group, a UK sports betting affiliate, has big plans to make it in America. Commercial Manager, Callum Broxton, explains how affiliates looking to enter the US can utilise the experiences gained in the UK to help shape their offering in a market where many operators will find such expertise of great use.
Estimates vary as to exactly how big the US sports betting market could ultimately become, but it is difficult to play down its potential.
At our offices here in Deansgate, Manchester, co-founder Jamie Knowlson has been known to recite the statistic that in the next five years, it Is projected that 50 million Americans will place their first-ever bet. One market research group recently found that the US market could be worth £40bn a year – close to 17 times the size of the UK's regulated market. Such figures take some absorbing.
In the race to bring the knowledge from mature markets into the US as sports betting continues to open up state by state, it is important to understand that success – and a slice of that vast lucre – is not just a slam-dunk away.
Culturally, the way that American sports are consumed is vastly different to the UK and there is a similar disconnect in terms of betting. As the new gold rush takes place, an understanding of the landscape is key to fully unlocking its potential.
As a Liverpool fan, I have experienced a lot of big nights in the Champions League. If you flew a US sports fan to Anfield for a midweek knockout tie against Manchester City, they might well be shocked at the intensity of the atmosphere.
The rawness of the experience is heightened at top-level football matches, where close geographic proximity of rival teams and the presence of large numbers of away fans enhance the gladiatorial feeling inside stadiums.
By contrast, the US-based sports fan will typically be bombarded with messages from sponsors, at a venue populated almost exclusively by home supporters within an atmosphere in which the emphasis is on family-friendly entertainment.
Interestingly, the role that betting traditionally plays within the consumption of sport is the opposite of what might be expected given the factors mentioned above. The typical US punter, placing their bet in-person, would tend to go for bigger stakes and at shorter odds to cover the money line.
In the mature market of the UK, betting is seen more widely as a recreational activity and there is a culture – certainly among our audience, which is mainly males aged between 18 and 34 – of placing a weekly accumulator at small stakes and large odds.
What we foresee is a gradual move towards betting embedding itself within the overall entertainment experience in the US. Flutter, which is using its FanDuel and FOX Bet brands to drive growth in the US, benefits from vast experience as one of the biggest operating groups in the UK and is gradually importing fresh betting concepts including request-a-bet and multiples offerings.
It is fair to say that a lot of handholding needs to be done in order to guide the US punter down the path of small stakes at long odds and as we start to look to our own future across the pond, cultivating this learning experience is a challenge we are very well-positioned to take on.
One of our biggest achievements in the UK market is the growth of our brands – the foremost of which is Footy Accumulators – from the ground up. From the start back in 2012, we grew our pages and our following organically, supplemented in recent years by paid activity.
This level of organic growth is not something you see replicated elsewhere and as we see it, the knowledge of how to achieve this can be exported. Our growth strategy in the US is to build from a strong base and expand from there.
Experience also informs us of the need to maximise relationships with partners. One example here in the UK is the way we can cut out the middleman and go straight to a trading team, should we see an opportunity we believe will engage our audience.
It is only through the forging of strong relationships that we can achieve such goals. Affiliates looking to enter the US can utilise the experiences gained in the UK to help shape offerings in the US, where many operators will find such expertise of great use.
We have also found that the building of partnerships domestically translates well. Within Flutter, for example, we are close to the major brands Paddy Power, Betfair and Sky Bet, which assisted discussions over future plans with FanDuel in that they were already familiar with our existing UK offering.
I expect to see a lot of similar cross-pollination across the board, given the existing partnerships between big players from Europe and the US. In a relatively short period of time, we have gone from a virtual blackout of betting activity in the wider media to DraftKings agreeing a highly visible $350m sponsorship with UFC.
While bettors were technically breaking the law a few years ago by placing a bet, the alliance of betting brands and major names in the media and sporting landscape can help build much-needed trust in the system.
As it stands, there are over a dozen states that have gone live with online sports betting in some form, with others – including New York – having legislation pending. While a lot of affiliate website SEO campaigns will be trained heavily on the states that are already live, it is important to build brands at a national level.
A business that is only present in states that are legal risks playing catch-up when restrictions are lifted elsewhere. Once a brand is established at a national level, the goal is to build up as wide a user base as possible in order that as soon as licences are gained for those states that go legal, it is a case of trying to convert those customers.
Ideally in our case, we will have produced in-built brand loyalty and allied to a strong product offering, that will enable us to maximise their betting experience for many years to come. We are also determined to focus strongly on responsible gambling, just as we do successfully in the UK.
As for the future of affiliates in the US generally, it will be interesting to see if it follows a similar pattern to the UK as the market matures. That would mean going from a free-for-all, with hundreds of affiliates promoting every bookmaker, to a point we have arrived at here where Sky Bet and bet365, to name two examples, have only a handful of partners each.
For our part, it comes down to positioning ourselves in a way that promotes longevity to gain the interest of as many of those 50 million new bettors as possible.