By
Phil
- 12 August 2021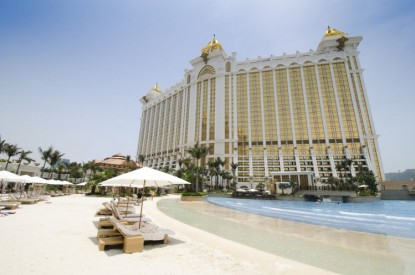 Whilst delighted that second quarter revenues were rebounding, Macau operator Galaxy Entertainment has confirmed that COVID has delayed the unveiling of Galaxy Macau Phase 3 until 2022.
The company said limitations on workforce access due to the COVID-19 pandemic has caused the delay to the project, that will include the Galaxy International Convention Center, several hotels,more shops and extra gaming space.
Galaxy Vice Chairman Francis Lui explained: "With the pandemic still not under full control, it is very hard to determine the exact date of the opening, because the pandemic to a certain extent determines our access to building materials and workers coming to Macau. Within our capabilities we are trying to manage it well and we hope that by early next year, part of the Phase 3 project can be commissioned and opened for business."
For the first half of the year, Galaxy posted Adjusted EBITDA was $2bn compared to $ 1.1bn in 1H 2020. Galaxy Macau's Adjusted EBITDA was $1.7bn, up from $848m in 1H 2020. StarWorld Macau's Adjusted EBITDA was $305m compared to $202m in 1H 2020. Broadway Macau's Adjusted EBITDA was $43m compared to $97m in 1H 2020.
The Group's total GGR was $9.7bn, up 62 per cent year-on-year as total mass table GGR was $5.9bn, up 100 per cent year-on-year and total VIP GGR was $3.5bn, up 26 er cent year-on-year. Total electronic GGR was $333m, up 27 per cent year-on-year.
The company said it was also 'pleased to report that our non-gaming performance improved in Q2 2021 due to a strong performance in retail which bodes well for the overall recovery prospects for Macau. Further, our performance was also supported by continued effective cost controls measures across the Group.'
The group stated: "Macau market experienced its fourth consecutive quarter of GGR growth in Q2 2021 despite sporadic outbreaks of COVID-19 in Mainland and, most recently, in Macau. The primary focus of the Macau Government as well as GEG continues to be the health and safety of the public as well as social and economic stability. Based on DICJ reporting, Macau's GGR for Q2 2021 was $24.6bn, up 685 per cent year-on-year and up seven per cent quarter-on-quarter.
"The IVS was progressively reinstated through the third quarter of 2020 but border entry restrictions for international and Hong Kong tourists remained in place impacting visitor arrivals. In Q2 2021, visitor arrivals to Macau were 2.2m Vs 50,000 visitors in Q2 2020 and up 26 per cent quarter-on-quarter. Mainland visitor arrivals were 2m Vs 46,000 visitors in Q2 2020 and up 28 per cent quarter-on-quarter. In Q2 2021, overnight visitors were 1.1 million Vs 25,000 visitors in Q2 2020 and up 24 per cent quarter-on-quarter. We look forward to the easing of border controls for Hong Kong and international tourists. We would also welcome the progressively reinstatement of the electronic IVS and the resumption of group tours to Macau."
Dr. Lui Che Woo, Chairman of Galaxy added: "Moving on to our development update beginning with Cotai Phases 3 and 4 where we continue to invest in the future of Macau. We were pleased to announce in March 2021 the introduction of the legendary Raffles at Galaxy Macau which will feature an approximate 450 all-suite tower and is targeted to open in early 2022. We intend to follow this with the opening of the Galaxy International Convention Center and Andaz Macau in anticipation of the recovery of the MICE and entertainment markets. And, finally, we are proceeding with the construction of Cotai Phase 4, our next generation integrated resort, which will complete our ecosystem in Cotai. As you can see, we remain highly confident about the future of Macau where Cotai Phases 3 and 4 will support Macau's vision of becoming a World Centre of Tourism and Leisure."
Regarding the development plan in Hengqin, he added: "We are awaiting updates from the government and would welcome the opportunity to contribute to the evolving role of Hengqin in Macau's future. In addition, we are expanding our focus beyond Hengqin and Macau to potentially include opportunities within the rapidly expanding Greater Bay Area. We, along with Monte-Carlo SBM from the Principality of Monaco remain interested in the long term prospects of Japan and are confident that
they will successfully navigate through the COVID-19 pandemic."
Dr Lui added: "We are very pleased to report that TripAdvisor recently announced that The Ritz-Carlton, Macau at Galaxy Macau was awarded the highest honor – Best of the Best Award, ranking No. 1 in the Top 25 Hotels in China and was also ranked No.14 in the Top 25 Hotels Worldwide. This year also marks the 100th anniversary of the Communist Party of China (CPC). The CPC has successfully guided China on a path of sustainable development, having achieved admirable success that has earned global respect. GEG would like to deliver our congratulations to our nation."
"Unfortunately, Henan Province recently experienced a natural disaster in July. We wish a speedy recovery to all those affected by this tragedy and GEG contributed MOP10 million to support the emergency response and relief efforts in Henan Province. Finally, I would like to acknowledge the efforts of the health and emergency personnel who have worked so hard to ensure the safety of Macau community. I would also like to thank our staff for being so supportive of our Company during these challenging times. Our future remains very bright," Dr Lui concluded