By
Phil
- 27 April 2018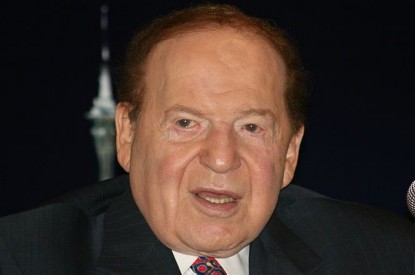 Las Vegas Sands supremo Sheldon Adelson has fuelled speculation that South Korea could be about to launch a tender for anew Integrated Resort.
Mr. Adelson said sands remained focused on the opportunity presenting itself in Japan but also highlighted the potential of a new resort in Korea.
Speaking firstly about Japan, he said: "Maybe it'll be this Friday that they submit the IR bill, but then again, you hear other people say that it's postponed for a week or two. But something that I heard from somebody in Korea was a little more encouraging. They are thinking about making another location outside of Seoul, a Korean national's casino in an integrated resort. We think we're number one in that line, and Korea could be real."
Mr. Adelson was speaking at Sands' first-quarter results set new records in all of its three markets, with results in Macau and Singapore especially strong.
Sands revealed that net income increased by 179.1 per cent to US$1.62bn in the first quarter of 2018. Revenue for the three months to March 31 increased 16.7 per cent to US$3.58bn, surpassing analyst predictions of US$3.36bn.
Mr. Adelson said: "This was a record breaking quarter. Company-wide adjusted EBITDA reached an all-time record of $1.5bn, an increase of 31 per cent over the prior year. Our Macao operations generated adjusted EBITDA of a whopping $789m, an increase of 26 per cent over the prior year.
"We broke a number of quarterly records, the highest ever mass table gaming drop in revenue, the highest ever retail mall sales and the highest EBITDA margin since the third quarter of 2006," he added. "At the same time we achieved an all-time quarterly record in adjusted property EBITDA in both Singapore and Las Vegas. The acceleration of Macao's mass market growth in the fourth quarter last year has continued into the first quarter. Non-Rolling drop grew by 21 per cent over the prior year and Non-Rolling wins grew by 22 per cent over the prior year. This strong mass revenue growth combined with cost efficiencies drove significant margin expansion."
GGR in Macau increased by 22 per cent in the first quarter.
"The power of our unique convention-based integrated resort business model was once again on display during the quarter, with record quarterly financial results achieved in Macao, Singapore and Las Vegas," added Mr. Adelson. "We also continued to invest in growth initiatives in each of our markets while returning excess capital to shareholders."
He also confirmed that work on the Londoner, the conversion of an existing property in Cotai, will get underway later this year.
"The design work for The Londoner is progressing," he explained. "The Londoner has tremendous potential as a third landmark must see destination, complementing The Venetian and The Parisian. Our commitment to further reinvest in Macao is not limited to The Londoner. Many other significant capital projects are taking shape as we speak. The suite additions at Parisian, the renovation of our VIP gaming areas, a plethora of new and exciting F&B outlets and the full scale development of the two luxury hotel towers immediately adjacent to The Four Seasons and St. Regis properties, all of which will greatly bolster our growth prospects in the year ahead. We regard it as a privilege to contribute to Macao's success."
Related Stories