By
Phil
- 24 June 2014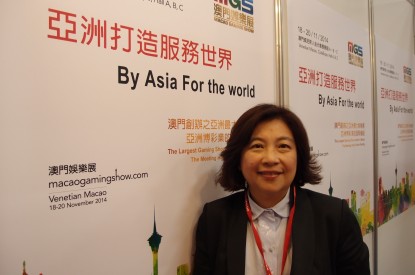 The team behind November's Macao Gaming Show (18-20 November, Venetian Macao) is investing in a multi-media marketing campaign to take its 'By Asia for the world' campaign to an international audience of gaming influencers.
As part of the dual Chinese and English language drive, over 100 MGS print and online adverts will be appearing across 25 gaming media channels from now until November. This is being supplemented by MGS Macau taxi advertising, MGS TV ad slots, and visits by the senior marketing team to major international gaming exhibitions such as GTi Taiwan Expo and conferences including Japan Gaming Congress (JGC) in Tokyo.
Discussing the campaign, Marina Wong, General Manager and Event Director at MGS said: "The marketing campaign, which is significantly bigger than in 2013, plus the appointment of world class partner organisations represents another sign of our commitment to establish Macao Gaming Show as the most important exhibition in Asia. We are supporting the Macao Gaming Show with an unprecedented level of investment in marketing and advertising in order to build on the success achieved in our debut year. Our aim is to ensure that every buyer who has an interest in the Asian gaming sector knows about the show, and has all the necessary tools and information to be able to attend."
She added: "The registration data that we have processed since registration opened confirms a very high proportion of repeat visitors. Our aim is to grow the attendance by adding new first-time visitors to this very healthy base while maintaining a similar if not higher level of seniority as in 2013 when 83 per cent of visitors were either decision-makers or had direct input to purchasing decisions.
"Not only does MGS provide a comprehensive window on the entire gaming industry, it is also the only show that is truly representative of the Asian gaming industry. I am delighted that so many industry decision-makers, purchasers and influencers will be joining us at the Venetian Macao in November."