By
Phil
- 8 October 2014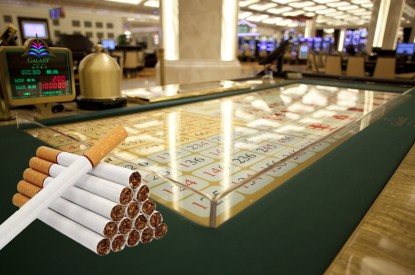 Macau's mass gaming, casino floors are now smoke-free since although smoking will be permitted in non-gaming, smoking rooms and in VIP rooms.
Currently only 12 of the 35 casinos have applied for permission for smoking rooms.
The move follows four consecutive months of declining revenue growth amid low liquidity in the junket market, a crackdown on credit and a concern over the influx of staff needed for new casino properties.
The government has moved from a policy of allowing smoking in areas 'that are of limited access to specific games and gamblers' to one that limits all smoking on main floors to separate smoking rooms. Union Gaming described it as an '11th hour change of plans.'
Unions' Grant Govertsen and Felicity Chiang said: "Based on conversations we've had with industry sources this weekend we can confirm that the smoking ban was apparently expanded to include 100 per cent of mass- market floors, including premium-mass areas. This also includes any enclosed premium-mass areas that had been constructed under the spirit of the new regulations that seemingly allowed for smoking within so-called private gaming areas. This suggests that the recent construction of enclosed private gaming areas, at least for now, was an effort in futility. "At least for now" is the operative phrase. Because operators were under the impression that smoking would be allowed in fully enclosed private gaming areas (to include premium mass), they did not build any smoking rooms within their premium-mass areas. Smoking rooms were only constructed on regular mass-market floors. As such, we would expect a new wave of construction to begin immediately to create smoking rooms within premium-mass areas."
Kenneth Fong and Isis Wong of investment bank Credit Suisse added: "We understand from the operators that the government needs more time to approve the new floor plan and the classification of premium mass area. The regulator wants to make sure that after the change, casino smoking floor area is still kept below 50 per cent. So there is still potential for further change in smoking space allocation."
Health Bureau Director Lei Chin Ion explained that 12 casinos had so far completed construction of smoking rooms but that they were still 'undergoing administrative procedures.'
The restrictions are much tougher than expected.
An analyst at Barclays Research said: "Previously we had expected just a low-to-mid-single-digit percentage impact to overall gross gaming revenue from the smoking ban, but we now expect a higher mid-to-high-single-digit impact as smoking is not allowed in premium mass areas as well."