By
Phil
- 30 March 2016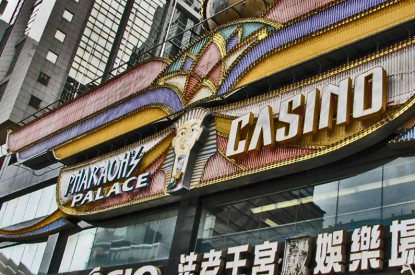 Macau Legend is planning to sell its Landmark Macau casino hotel along with the Pharaoh's Palace Casino located there.
The operator made the announcement as it delivered its results for the year, reporting a loss in 2015 of HK$268.5m in 2015.
Gaming revenue decreased by 29.9 per cent to HK$897.4m whilst Non-gaming revenue increased by 1.4 per cent to HK$538.7m.
A breakdown of results shows that GGR of mass gaming tables and outsourced VIP tables at Pharaoh's Palace Casino decreased by 38.2 per cent to HK$1,080.5m and 73.6 per cent to HK$1,557m, respectively. GGR of mass gaming tables at Babylon Casino decreased by 12.2 per cent to HK$213.2m. New Legend, the operator's self-run VIP operation, contributed gross gaming revenue of HK$263.6m to the group, representing an increase of 156.4 per cent.
Co-Chairman, Executive Director and Chief Executive Officer of Macau Legend, Mr. David Chow, said: "With the increasing focus in Macau Fisherman's Wharf, it makes commercial sense for the proposed disposal of The Landmark Macau (including the casino facilities), and to focus more on the new hotels, casinos and other tourist related facilities at Macau Fisherman's Wharf. The cash that we will receive from this sale will also allow us to expand our businesses in Macau and overseas without taking on too much additional leverage."
"Harbourview Hotel, our first new hotel at MFW opened in February 2015, contributed nongaming revenue of HK$115.2m.," he added. "Business at this new hotel continues to ramp up since its opening. With the completion of the second new hotel, Legend Palace Hotel, the new 5-star integrated hotel and casino will add new luxury hotel, gaming, retail, and food and beverage capacity into the Macau Peninsula market and this should allow the Group to be much more competitive in the premium mass and VIP markets. It has been noted that the operating performance for The Landmark Macau has declined."
Mr Chow added: "Construction for the Legend Palace Hotel is expected to be completed in June 2016, and we are targeting to open this new hotel and the casino by the end of 2016. We intend to expand New Legend, our self-run VIP operation, which has continued to increase its revenue contribution to the Group in 2015, into this new hotel.
"The past year proved to be challenging. The combination of the economic situation in China, the increase in new hotel and casino capacity in Macau and the changing profile of the visitors to Macau were among the key issues that negatively impacted gaming and non-gaming businesses."
"During this current period in Macau, it is even more important that the Group continues to better manage its resources, ensures adequate liquidity and continues to take advantage of opportunities to expand our business overseas. I strongly believe this strategy is in the best interest of all our shareholders. We will focus on Southeast Asian destinations where the "One Belt, One Road" policy from China is supporting new investment in tourism and tourism related infrastructure and also Portuguese-speaking countries like Cape Verde, to make good use of the Sino-Portuguese platform for our business diversification overseas."