By
Phil
- 14 July 2015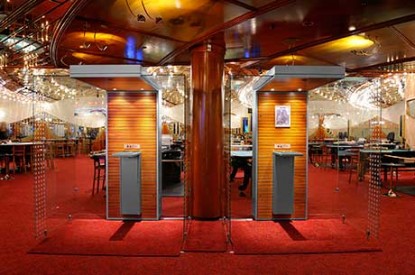 With the market's GGR in free fall, the Macau government could yet back down on plans to ban smoking rooms on gaming floors.
Secretary of Social Affairs and Culture Alexis Tam Chon Weng revealed that the government may let casinos keep their smoking rooms if they can highlight that the health of employees and customers is not affected.
The government had announced plans to ban smoking in VIP rooms and even remove the airport-style smoking lounges that are currently allowed on mass gaming floors.
Casinos will have to scientifically prove that the use of airport style smoking boxes prevent tobacco harm.
Speaking at a meeting with Macau's Legislative Assembly, the Secretary said: "Some legislators seem very confident about establishing smoking lounges that can scientifically and effectively prevent the health of gaming workers and tourists being affected by tobacco. The decision will depend upon their proposals. We hold an open attitude on the issue as we have been doing. We have been putting our focus on the opinions of gaming workers, as their number totals 83,000. Although the number of gaming bosses is relatively lower, their benefits involved in the bill is still high. We totally understand their situation and concerns. As such, we will see if their proposals really are viable.
SJM boss Angela Leong said the cost invested by Macau's casino operators in the smoking boxes was MOP2bn.
"If the government thinks that the current smoking lounges do not meet its standard, we can improve upon them. We should consider how to maintain the city's gaming tax under the full-smoking ban. Of course, the gaming downturn is not all due to the ban, although it may make the situation worse. I hope the government can consider these factors when discussing the bill for final reading," she said.
Cameron McKnight, an Analyst with Wells Fargo, said: "We expect additional colour in the next few days, and continue forecasting July revenues down 30 per cent to 32 per cent year over year. We remain neutral as the market adjusts to a 'new normal' of: tighter government oversight, more muted medium-term industry revenue growth, and a recovery that is likely to be flatter than prior rebounds."
Benjamin Collett, Head of Sunrise Brokers, said of the development: "This indicates a softening of the government's stance, and that's positive enough to make you reduce your short position."
The Macau Junket Operators Association (AMJEM) meanwhile has warned its members could stop working in Macau if a full smoking ban is introduced.
AMJEM President Kwok Chi Chung said any further impact on the Macau VIP sector would see junkets invest in Southeast Asia instead which he believed would ultimately develop better than Macau's.
It's the second glimmer of good news in Macau in as many weeks with visa restrictions for visitors from the mainland being relaxed.
"This is the first sign of policy easing since the downturn began in Macau," said Anil Daswani, an analyst at Citigroup. "The transit visa policy significantly hit premium mass gross gaming revenue since the second quarter of 2014 and this reversal was much needed to rekindle growth in the volatile Macau market."
Morgan Stanley Analyst Praveen Choudhary disagreed though: "Many would consider two recent news items as signs of the bottom. A complete smoking ban could be seen as removal of a longstanding overhang and relaxation of transit visas the end of tight regulation. We disagree."
He doesn't think the visa adjustment will boost VIP customers from mainland Chinese and believes that ultimately the smoking ban will be fully implemented.