By
Phil
- 2 May 2014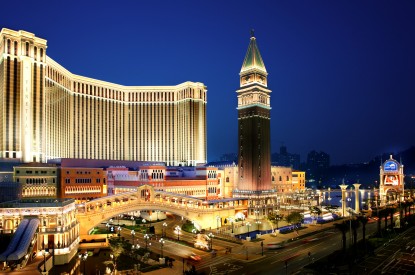 Las Vegas Sands reported record first-quarter results, smashing analysts' estimates as its properties in Macau continued to benefit from huge customer numbers.
The group revealed that revenues increase by 21.4 per cent to a record $4.01bn with property EBITDA up 49.1 per cent to a record $939.8m.
Sheldon Adelson, Chairman and Chief executive Officer, said: "The focused and consistent execution of our global growth strategy, which leverages the power of our convention-based Integrated Resort business model, is clearly driving our financial results. Continued execution of that strategy will extend our position as the global leader in Integrated Resort development and operation.
In Macau, Sands delivered record financial results, with strong growth and operating momentum reflected in every segment of its business. "We welcomed more than 17m visits during the quarter to our Macao property portfolio, which delivered a record $939.8m of adjusted property EBITDA," Mr. Adelson explained. "We remain confident that our market-leading Cotai Strip properties, including our latest Integrated Resort on the Cotai Strip, the Parisian Macao, which is targeted to open in late 2015, will meaningfully enhance the appeal of Macau to business and leisure travellers and provide an outstanding platform for growth in the years ahead."
The Venetian Macao continued to enjoy Macao market-leading visitation and financial performance. The property delivered record adjusted property EBITDA of $470.1m, an increase of 34.9 per cent compared to the first quarter of 2013. Non-Rolling Chip drop increased 80.7 per cent to reach a property record $2.41bn for the quarter with Non-Rolling Chip win percentage of 26.1 per cent. Rolling Chip volume during the quarter increased 31.2 per cent to reach $15.32bn. Slot handle was $1.45bn, increasing 21.9 per cent compared to the first quarter of 2013. Mall revenues increased 26.4 per cent during the quarter to reach $38.3m.
In Singapore, adjusted property EBITDA reached $435.2m reflecting strong growth in non-gaming revenue, steady mass gaming results and a higher hold rate on VIP play. Mass win-per-day increased slightly to $4.65 million per day.
Mr. Adelson added: "The prudent management of our cash flow, including the ability to increase the return of capital to shareholders while maintaining a strong balance sheet and ample liquidity to invest in future growth opportunities, remains a cornerstone of our strategy."