By
Phil
- 15 June 2018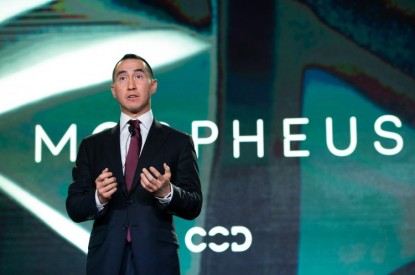 Melco Resorts has now opened Morpheus, the new, ultra-luxury hotel in Macau.
Named after the god of dreams in Greek Mythology, this US$1.1bn iconic building is the latest addition to the Phase III development of City of Dreams Macau.
Morpheus is the world's first ever free-form exoskeleton high-rise architectural structure, designed by legendary architect the late Dame Zaha Hadid.
MLawrence Ho, Chairman and Chief Executive Officer of Melco Resorts & Entertainment, said: "Ten years ago, Melco promised to create something different, something better to create a new category of hospitality for the premium mass. Today, together with our partners and the support of the Macau government, we have delivered on this promise. Morpheus, our most luxurious integrated resort yet, solidifies Melco's position as a global premium brand as we continue to expand our offerings around the world. We look forward to welcoming our first guests, positioning Macau as a globally leading integrated destination for entertainment and leisure that goes beyond gaming."
The completion and opening of Morpheus also marks a new beginning for City of Dreams. Our premium portfolio now includes the sleek, modern Morpheus; the chic, classic Chinese Nüwa; and upcoming hotel Libertine, the funky rebel, which starts development in the first quarter of 2019. They all offer guests premium and luxury experiences but each has its own distinctive style and design while maintaining the same focus on quality and attention to detail.
On the rebranding of City of Dreams, Mr. Frederic Winckler, Chief Marketing and Branding Officer of Melco Resorts & Entertainment, commented, "The creation of Morpheus signaled the moment for City of Dreams to be refreshed and reinvigorated. The new brand represents our drive to enhance every guest experience through a relentless focus on luxury and quality and to constantly evolve with boundless energy and a sense of fun. Guests deserve the best and it is our mission to welcome them back for more, time and again."
Related Stories