By
Phil
- 8 March 2013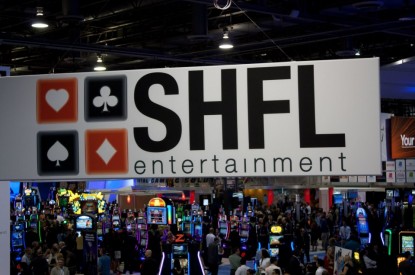 SHFL entertainment has confirmed that despite losing one recent court case in Macau and regardless of on-going legal disputes with LT Game in the Macau market, it will exhibit at G2e Asia in Macau in May this year.
The Las Vegas-based manufacturer said that this month's Court of Second Instance's ruling on a progressive baccarat game patent claimed by Jay Chun, owner of Macau-based manufacturer LT Game, would not prevent it from showing products.
A spokesperson said:  "This is a standalone issue regarding the validity of a proprietary table games related patent' we are opposing, not to be confused with our separate e-Table issue. This patent has nothing to do with anything we are currently selling in Macau."
SHFL confirmed it had challenged the validity of the progressive baccarat patent in Court and was unsuccessful.
The Court of Second Instance rejected its appeal, ruling that as SHFL is only registered in Macau as a 'retailer and distributor and not as a manufacturer' it had no legitimacy to appeal. The Court ruled that SHFL was unable to prove that it was 'directly and effectively harmed' by the government's decision to approve Mr. Chun's patent.
The ruling shouldn't be confused with the on-going legal issues that SHFL and LT Game remain entangled in. LT claims it holds a monopoly over e-Table patents to sell multi-player terminals in Macau, which has seen several companies unable to display such product at G2E Asia despite the event covering Asian gaming and not just the Macau casino sector.
The wider fall out between the two companies began in 2009 but came to a head at G2E Asia last May when SHFL voluntarily covered some of its products following visits by Macau customs officials to the company's exhibition stand. That dispute focused on SHFL's Rapid Baccarat System, which LT claim infringes on patents it holds for multi-player hybrid games.
As the overwhelming game of choice in Macau, baccarat has become a keen focus for developers of multi-player terminals due to legislation capping live tables as well as labour shortages due to so many casinos opening in such a short space of time.
Sands China, the Macau-based operating arm of Las Vegas Sands, originally opted to install SHFL product when it opened a multi-player dedicated part of its gaming floor called Imperial Stadium at its Venetian Macao and Sands Macao casinos. It subsequently replaced SHFL product with that from LT Game.
The litigation regarding the Macau Rapid Baccarat Patent Issue is long and convoluted but has led to the scheduling of a trial hearing. SHFL's spokesperson said: "SHFL Asia will have the opportunity to present the legal and factual arguments as to why any accusation of patent infringement should be found totally without merit.  We believe that we have meritorious defences and are vigorously defending this matter."
"After initially agreeing with Macau customs officials' request to cover our Rapid Table Games Multi Game product, we received court approval to post a bond of approximately $0.1m to enable our subsidiary SHFL Asia to display the Rapid Table GamesMulti Game product at the G2E Asia Gaming Show," it explained. "In November 2012, a higher court in Macau agreed to hear our appeal of the injunction, giving us the opportunity, for the first time, to contradict the facts and the arguments proffered by the Natural Noble Plaintiffs in support of the injunction, and to attempt to recover the bond of approximately $0.1m and prove the lack of merit of the injunction. We have submitted our defences and counterclaims in this matter and are vigorously defending this matter."
A complaint has also been filed against SHFL entertainment in the United States District Court for the District of Nevada alleging 'unfair competition and tortious interference with current and prospective business and contractual relations' as a result of SHFL's alleged 'disparagement and misrepresentations regarding LT Game International's business, products and services.'
The complaint seeks injunctive relief and an unspecified amount of damages, including claims for costs. SHFL's spokesperson stated: "We believe that this complaint is without merit and we are vigorously defending this matter."
In October SHFL Asia countersued with a lawsuit in a Macau court against the LT Game alleging that its claims of holding a monopoly have been 'to the detriment of SHFL Asia's business' and have gone 'beyond the legal scope of patent protection in Macau.'
The lawsuit alleges that the LT patents are not novel and so shouldn't restrict SHFL Asia and other companies from selling or using multi-game terminal betting products in Macau.
Whilst some multi-player manufacturers are still weighing up their options with regards to exhibiting at G2e Asia, SHFL's spokesperson stated: "It is our intention to exhibit our products at G2E Asia, yes."
Even away from the multi-player issue, the market is still providing huge opportunities for SHFL.
The spokesperson said: "We're very pleased with its success, and the consistent feedback we've received from operators in Macau is that DFDC is one of the strongest slot performers on their floors. In Asia, Duo Fu Duo Cai is a progressive link jackpot game with 88 Fortunes and 5 Treasures as the base games.  There are approximately 160 currently installed in Macau at City of Dreams, Galaxy, Wynn, MGM, Mocha slot halls, Sands and the Venetian. Further expansion in Asia includes the Philippines."
Analysts at Union Gaming recently tipped SHFL for big things in Asian markets with the product saying it 'has an opportunity to gain market share in the Asian slot machine market.' It highlighted SHFL's slot game Duo Fu Duo Cai – Fu saying it was 'performing well above house average in Macau' with strong time on device. Union believes a combination of expansion and replacement will see 23,600 new slot machines sold into Asia over the next four years.
Related Stories