By
Phil
- 21 October 2015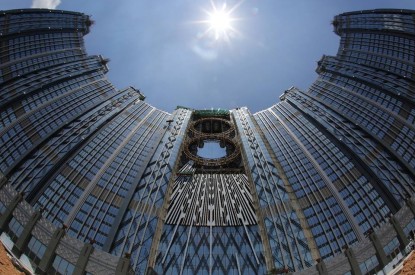 The Macau government has authorised Studio City's gaming operator, Melco Crown Limited, to operate 250 new gaming tables and 1,233 new gaming machines at the Studio City gaming areas.
Only 200 gaming tables will be allowed to be open when the curtain is lifted on the Hollywood themed resort. The remaining 50 gaming tables authorised to be in operation beginning in January 2016.
The quota was in line with many analyst estimates although it was far less than Chairman Lawrence Ho had asked for. It is also 100 more tables than Galaxy Entertainment Group was allowed for the opening of Phase 2 of Galaxy Macau that opened in May.
Studio City's gaming operator is a Macau gaming subconcessionaire and a member of Melco Crown Entertainment.
Tim Craighead, Director of Asia research for Bloomberg Intelligence, said: "Two hundred and fifty tables is a big allocation. No one should have been expecting 400. Studio City plays into Macau's desire to diversify beyond the casino floor."
Grant Govertsen, an analyst with Union Gaming Group, said: "It's more tables than expected. It's definitely positive from an investor's point of view. Studio City checked all the right boxes in terms of all the non-gaming amenities that the government is looking for."
Following the table allocation confirmation, Studio City intends to proactively engage the lenders under its senior credit facilities to discuss proposed amendments to the terms of its loan documentation to reflect the number of tables allocated.
Studio City, a Hollywood-inspired integrated resort located in Macau, will offer visitors a truly diverse mix of World-class entertainment and other non-gaming attractions which support Macau's evolution in to the leading leisure and tourism destination in Asia. It will also offer unprecedented non-gaming careers for local Macau employees. The resort will officially open on October 27, 2015, as previously announced.