By
Phil
- 11 May 2021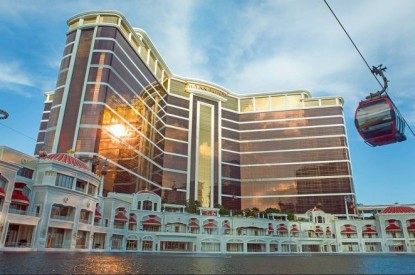 Wynn Resorts had something positive to report for each of its gaming markets for the quarter ended March 31, with Macau's Golden week seeing the highest amount of normalised profit since the pandemic began, record ever slot revenue in Las Vegas and record EBIDTA in Boston.
Operating revenues came in at $725.8m for the first quarter of 2021, a decrease of 23.9 per cent with revenues down $22.2m, $49.8m, $145.1m, and $10.8m at Wynn Palace, Wynn Macau, the Las Vegas Operations, and Encore Boston Harbor, respectively, from the first quarter of 2020.
"Our first quarter results reflect continued progress in our business as consumers began to once again travel to their favorite leisure and gaming destinations," said Matt Maddox, CEO of Wynn Resorts, Limited. "Wynn Las Vegas showed continued strength in the casino segment, with the property remaining the destination of choice for high quality gaming customers, while forward bookings in the leisure segment improved throughout the quarter. Encore Boston Harbor again delivered record Adjusted Property EBITDA on the back of solid execution across the property. In Macau, we experienced continued gradual improvement in visitation trends driving particular strength in premium mass casino and luxury retail."
In Macau the company has benefitted from a focus on mass gaming which has even seen some VIP gaming space switched over to mass.
Mr. Maddox said: "Momentum continued in April and in May, and during Golden Week we generated $3m of normalised EBITDA per day, by far the highest amount of normalized profit that we've been able to generate since the onset of the pandemic at the beginning of 2020.
"Even with the junket, volumes continuing to fluctuate between 25 per cent and 30 per cent Golden Week 2019, we were able to achieve these results because we focused our business on mass and premium mass," he added. "We've been converting space that was previously for VIP into premium mass base. We generated 76 per cent of our mass volumes during the Golden Week this year compared to the Golden Week in 2019. Our hotel occupancy during Golden Week was 93 per cent with retail up 80 per cent over the Golden Week numbers in 2019. We expect May we'll continue to see acceleration over the April results. And we are very, very excited about the summer and what's going to come in Macau."
Craig Billings, President and Chief Financial Officer, added: "Gross gaming revenue per day in 1Q 21 was approximately 34 per cent of Q4 2019 led by the premium mass segment with particular strength in March. This strength continued into April as mass dropped reach $16.8m per day or 59 per cent of Q4 2019, or a 26 per cent increase compared to 1Q 2021 levels."
In Las Vegas the company reported 'very encouraging trends,' generating $28m in EBITDA in the first quarter.
"Our slot revenues in April were $25m which was a property record more than any other month in the history of Wynn Las Vegas," said Mr. Maddox. "Our EBITDA has already exceeded the first quarter in Las Vegas. Just last week, we hosted our first large group of 600 people, and it went off without a hitch, people are so happy to be back; conventions work, customers are excited and as more restrictions are lifted, and we're able to really start to roll out our entertainment and our nightclubs and do what we do best.
Mr Billings added: "At Wynn Las Vegas, we generated $28.1m of adjusted property EBITDA on $178.7m of operating revenue from a business that was heavily weighted to weakened occupancy. The casino saw broad based strength across key segments with slide handle and table drop reaching 86 per cent and 80 per cent of Q4 2019 levels respectively during the quarter. The team in Las Vegas has done a great job of controlling costs without negatively impacting the guest experience."
In Boston, Wynn generated record EBITDA of $30.4m despite 'curtailed operating hours for much of January and it significant limitation on gaming positions.'
Mr. Maddox explained: "At Encore Boston Harbor, we achieved record EBITDA of $30m for the quarter, even with restricted operating hours and quite significant COVID restrictions in the month of January. Our daily EBITDA is up 30 plus per cent, compared to the first quarter. Encore Boston Harbor is hitting on all cylinders right now. We've been able to really rationalise the cost, run the building much more efficiently and focus on our casino customers, and being the top Super Regional Casino in the northeast. Encore Boston Harbor is going to continue to grow quarter-over-quarter throughout this year as that property and that management team are really doing an amazing job."