By
Phil
- 20 June 2019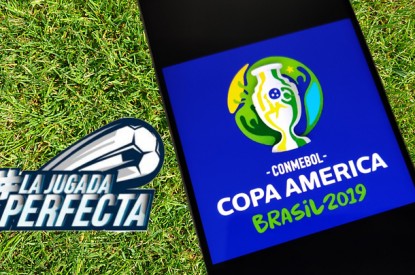 Colombian gaming regulator Coljuegos has launched a campaign to urge players to verify that they are playing via authorised sports betting online sites during this year's Copa America. The tournament, organised by South America's football ruling body CONMEBOL, is currently underway in Brazil.
Pérez Hidalgo, President of Coljuegos introduced the new campaign last week which is called #LaJugadaPerfecta (#ThePerfectPlay) by which the regulator seeks to promote betting as an entertainment activity and to provide information about the importance of making online bets via government sanctioned sites. During a statement, Hidalgo stressed that legal operators guaranteed the prevention of money laundering as well as the proper payment of winning bets.
According to the data provided by the president of the board, in Colombia there are now 17 authorised online betting operators, with which the body is expected to raise $2,833,747,673 during the month of June. In the case of casinos and bingos, there are about 360 operators that will hold betting activities based around football with which it is expected to raise a further $30,623,241,986. In addition, for the tournament eight promotional games have been authorised by the board, with a prize plan of $ 2,556m for which it is projected to raise close to an additional $500m. The promotions will allow companies to advertise goods and services, offering prizes to the public at a national level during the tournament.
"We have made very important advances for the growth of an economic sector that generates quality jobs, contributes to the country's growth and contributes to the financing of the health of Colombians," said Hidalgo who also highlighted the efforts made by the regulator in the fight against illegal gambling. "All the companies registered in Colombia, sign concession contracts for a determined period, once they meet with all of the technical, financial and legal standard requirements their names and locations are published on the regulator website."
From 2013 up until now, 25,079 components used for illegal gambling have been removed in Colombia, of which 18,479 were electronic slot machines while the remaining 6,600 components belonged to other games such as bingo, roulettes and online betting. In 2019 a total of 1,511 components used for illegal gambling have been confiscated, 2,903 illegal websites have been blocked and 246 penalty processes have been initiated against those responsible.
"Today, the entire gambling industry let's Colombian players know that they can carry out #LaJugadaPerfecta on Copa América 2019, through the entire offer authorised by Coljuegos and have the guarantee to do so legally and responsibly," Hidalgo said .
In February Coljuegos reported a record collection of revenue from online gaming licensing and exploitation rights during 2018. Operator rights for online gambling reached over $37bn (US $ 11,880,355).