By
Phil
- 27 October 2022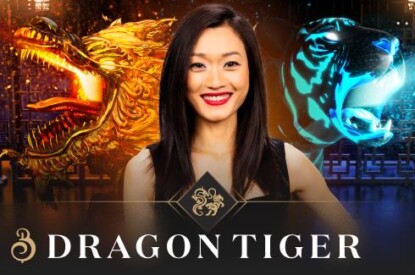 Live casino brand Bombay Live has released Dragon Tiger, a captivating and luxurious live casino game that gives an unrivalled and unique gaming experience.
The release is a high-quality and lightning-fast live casino product, which delivers a fascinating 3D optical experience with some breathtaking and crisp visuals, while 4K cameras, a state-of-the-art studio and low latency streaming makes this one of the most complete live casino products available.
A straight-forward two-card game, gamblers are tasked with a simple choice – decide whether the card drawn will be a fiery dragon or a powerful tiger. The dealer then reveals their card and if the players choose wisely, they could win a multiplier worth x1000.
Full of excitement and enthralling animations, players can elevate their chances of winning by placing bets on both 'Lucky Paws' and 'Lucky Claws'. If both the dragon and the tiger appear, then the highest card wins.
This spectacular title is enhanced by Bombay Live's unique Mystic 5 side bet, where participants can predict the result of the next five rounds, offering multipliers worth up to x888. A pioneering mechanic which gives players more freedom over their gaming strategy, with users able to prepare bets during active rounds and modify them until the betting time closes.
Bombay Live focuses on delivering premium live casino products, with its team of global industry experts seeking to develop innovative, sophisticated and high-tech products that appeal to players across the world.
Taago Tamm, Chief Product Officer for Bombay Live, said: "We're delighted to have extended our product portfolio with another captivating and premium live casino product.

"Our Dragon Tiger is an amazing live casino game that gives players a beautiful and immersive visual experience, complete with alluring 3D animations filling the screen, while its simple gameplay means all levels of players can enjoy this latest release that we are extremely proud to bring to market."