By
Phil
- 12 June 2015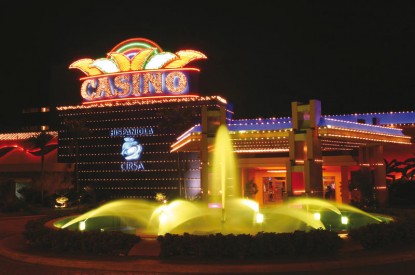 According to data collected by The Directorate General of Internal Taxes (DGII) gaming revenues in the Dominican Republic are dropping year on year amongst fears that illegal gambling is growing.
This is despite a number of crackdowns of late on illegal gambling and a thriving gaming industry.
According to the most recent statistics Dominicans bet on average US$80,200, per hour on slot machines, lotteries and sports betting in 2014. However, this amount is 4.8 per cent less than Dominicans spent on gaming in 2013.
The number of slot machines in the Dominican Republic has also dropped, according to data collected by the (DGII) by 9.5.per cent from 5,766 slot machines 2013. They also reported a drop in sales by 10.5 per cent in 2014 compared to the previous year.
Sports betting shops have also decreased in number by 1.4 per cent from 1,032 in 2014 and have reported a 16 per cent drop in sales. Lottery branches, meanwhile, have increased in number by 4.7 per cent and stood at 23,687 in 2014. But sales have dropped by 1.2 per cent.
Tax gaming revenues have continued to drop this year declining by 6.7 per cent in the first four months of this year compared to the same period in 2014.
Gaming is an important generator of income for the state. But revenue is dropping due to the rise in illegal gambling, possible tax evasion and an increasing tax burden on the operator. Operators from December 2012 were forced to impose a 10 per cent tax on prizes which has discouraged payers from gaming and may have led to the surge in illegal gaming establishments.
The casino industry in the Dominican Republic is well developed. There are 11 casinos on the island which by law must be located in five star hotels in tourist zones. There are also two large scale slot parlours. In the Dominican Republic casinos pay taxes on a sliding scale based on how many tables are housed on the establishment with those with over 36 tables paying the highest amount (US$1,300 per table per month) and those with one to 15 paying the lowest amount (US$850 per table per month). However, illegal slot machines have proliferated widely over recent years and there are an estimated 10,000 to 30,000 illegal slot machines located in bars restaurants and small businesses and illegal slot parlours.