By
Phil
- 26 February 2016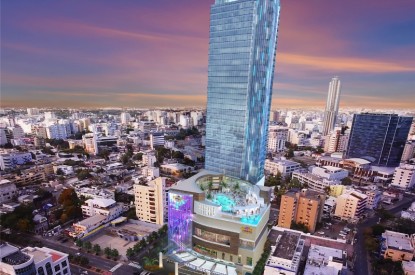 A committee of school staff and residents in the neighbourhood of Piantini have asked the Ministry of Finance to deny a licence for a 23,000 square foot casino which would be part of the Hard Rock Hotel planned for Dominican Republic.
Locals have complained that a new casino would have a negative effect on the community located in the heart of a residential urban area with a large number of educational institutions.
A total of 3,000 families have joined forces to oppose the new plans for the casino in capital Santo Domingo and concerned locals have made the request via an open letter to Simón Lizardo, Minister of Finance. In the letter locals expressed their "categorical rejection of the installation of a casino in the heart of Piantini" because the casino is "completely incompatible" with a residential neighbourhood with so many schools, especially given the fact that the new casino would be one of the largest in the country.
Members of the committee in their complaint also quoted the promoters of the new venue by saying that the establishment will have an area of 23,000 square feet, two bars, a race and sports book, 400 slot machines and 40 tables, plus a private room for high level players and went on to say that: "In order to understand the magnitude of this casino you should know that the Hard Rock Casino in Las Vegas is 30,000 square feet almost the same size for the casino announced for Piantini."
The statement goes onto say that, in addition to affecting the community and its environment "the installation of this casino will directly affect students from surrounding schools" and will add to the growing traffic problems in the area. It also stressed that a large number of hotels have already been built in the area such as the JW Marriott, and the Real Hotel Intercontinental Santo Domingo which is presently under construction.
In February President Danilo Medina presided over the ceremony which saw the beginning of the construction of the Hard Rock Hotel & Casino Santo Domingo the first establishment of the chain in the Dominican capital and the second Hard rock establishment in the Dominican Republic.