By
Phil
- 31 October 2018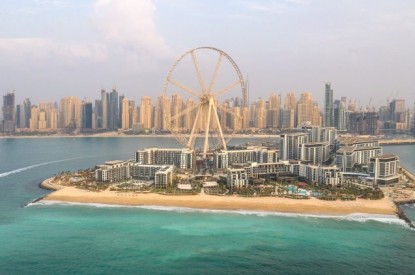 Even though they will not operate any degree of gaming, Caesars is closing in on opening dates for two beach front luxury resorts, beach club and residential tower on Meraas' Bluewaters Island in Dubai.
Cove Beach will open November 9, Caesars Palace Bluewaters Dubai and The Residences at Caesars Palace Bluewaters Dubai will welcome their first guests on November 15 with Caesars Resort Bluewaters Dubai following in December.
Mark Frissora, President and Chief Executive Officer of Caesars Entertainment, said: "These resorts mark the opening of our first non-gaming resorts and demonstrates the strong demand among developers and guests to see our flagship brands brought into new global markets. In collaboration with Meraas Holdings, this project is the first of several that will pair our decades-long leadership in the hospitality, entertainment and culinary spaces with trusted partners around the globe to drive expanded growth and guest satisfaction for many years to come."
"Bluewaters Island is a truly unique space where guests will find that our offerings are synonymous with the quality hospitality, dining, spa and entertainment experiences that have helped establish Caesars as one of the most respected and recognizable brands in the hospitality industry," said Bob Morse, President of Hospitality at Caesars Entertainment. "These openings set the stage for Caesars to continue to expand the reach of our brands into global gateway cities."
The opening of these resorts is the latest development in Caesars Entertainment's international growth strategy. Earlier this year, Caesars announced plans to break ground on Caesars Palace Puerto Los Cabos in early 2019, a beachfront resort it is developing in partnership with Mexico-based Grupo Quetro. Among other projects, Caesars is developing an integrated resort in Incheon, South Korea, and has expressed interest in developing an integrated resort in Japan.