By
Phil
- 30 November 2016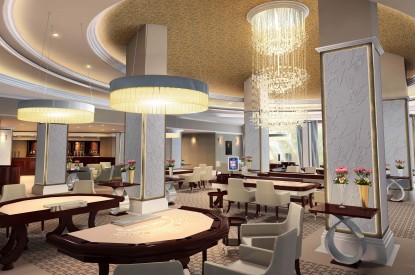 Genting has opened Crockfords Cairo, a luxury destination in the Egyptian capital that takes its name and inspiration from Crockfords, the exclusive Mayfair casino situated in the heart of London.
The 12,500 sq ft casino cost £2.5m and has resulted in more than 150 jobs being created for Cairo's local workforce. The casino houses 30 slot machines, 10 electronic roulette terminals and 15 gaming tables. The table maximums will be the highest available in Egypt.
The sophisticated development is the first venture for Genting in the region. It will be operated by Genting Casinos Egypt Limited, a subsidiary of Genting UK, the owner of Crockfords.
Genting President and COO Paul Willcock said: "This is a tremendously exciting development for Genting as we expand our reach into Europe and the Middle East. We have created a luxury casino under the famous Mayfair brand of Crockfords, which will bring a unique gaming experience for our customers."
The casino will target business travelers and wealthy tourists. It will be open 24 hours a day offering a full range of gaming facilities, an extensive bar and sumptuous food service. The General Manager of Crockfords Cairo, Lamberto Graglia, has been working in Cairo for nearly two decades and has a wealth of experience within the industry. He leads a hand-picked team of enthusiastic and highly trained personnel who are focused to provide the ultimate in service delivery.
As Crockfords Cairo is situated inside the city's world famous Nile Ritz-Carlton, Cairo, guests will enjoy direct access to the club from the lobby of the hotel. Crockfords Cairo also features its own dedicated frontage and drop-off point at its primary entrance.
The modern eponymous Crockfords in Mayfair has its origins in the first private members' gaming club, established in London in 1828 by William Crockford. It was his original vision to create a club of splendour and elegance, fit for royalty, diplomats and the aristocratic elite during the reign of Queen Victoria.
Now thousands of customers in Cairo will enjoy the benefits of the highest quality experience developed over more than a century, presented in a modern and engaging fashion while holding true to the founder's unprecedented standards