By
Phil
- 2 December 2014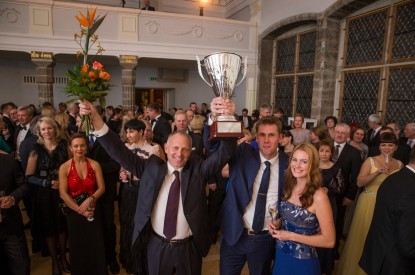 Olympic Entertainment Group (OEG), has been ranked as first among the top 100 successful Estonian companies.
The list of the most successful Estonian companies is annually published by the largest Estonian business daily Äripäev. The ranking is based on top 500 Estonian companies with the biggest revenue and developed taking into account also operating profit, revenue and profit growth, profitability and asset productivity.
OEG ranked the first ahead of Elering AS, company managing the Estonian electricity system; Riverside OÜ, a construction company; Port of Tallinn and Eesti Energia AS, an international energy company operating in the energy market of the Baltic and Nordic countries.
According to Mr. Armin Karu, Chairman of the Board of OEG, the company is proud to be ranked as the most successful enterprise in its home market. "We have put a lot of effort into building a prosperous international business keeping the high satisfaction of our customers and the best industry standards at the same time in all our markets," Mr. Karu said. "Our ambition never settles, however, and we are continuously looking for possibilities to expand and grow our business in Europe even more as well to other continents," he said, adding that the company is currently building a brand new luxurious Hilton hotel and the largest ever Olympic Casino that will be opened in Tallinn, the capital of Estonia by the first half of 2016.
In addition to being ranked as the most successful company in Estonia, OEG has received several other substantial recognitions recently, having also been named the most competitive service enterprise in Estonia and the Casino Operator of the Year at the Totally Gaming Awards in London in 2013.
With more than 2,600 employees, Olympic Entertainment Group is the largest provider of casino entertainment in the region. OEG is a full member of the European Casino Association (ECA). The Group operates casinos in Estonia, Latvia, Lithuania, Poland, Slovakia, Belarus and Italy. The company also provides online casino games, poker and sports betting under its OlyBet brand. OEG shares are traded on the main list of Tallinn Stock Exchange and the Warsaw Stock Exchange. All casino operators of Olympic Entertainment Group are responsible enterprises that notify their clients of the dangers associated with gambling.