By
William
- 23 November 2021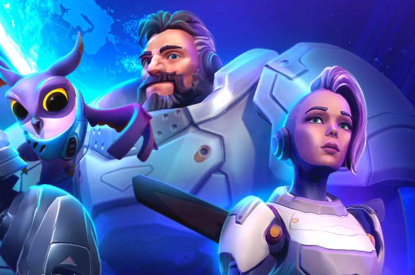 Evoplay's big release for 2021, Star Guardians, is a game the company believes will turn the iGaming industry on its head by bringing new audiences to online casinos.
While young, affluent, mainstream gamers are not overly interested in the games found in online casinos, Star Guardians provides, for the first time, manual control and third-person shooter mechanics.
Evoplay first showcased Star Guardians this September at SBC Summit Barcelona, and it caused quite a stir. Conference goers were even lining up to have their photo taken with the lifesize cutouts of the title's main characters.
The game oozes beautiful graphics, delivers an incredible soundscape and has a cinematic feel. But more than that, it gives something we've never seen before. It turns a video slot into a third-person shooter where you can actually control the character you're playing as.
In short, it's a gambling title that looks, feels and plays like a mainstream gaming product. Or, as Evoplay described it in Barcelona, "it's truly interactive, immersive, iGaming entertainment."
It's the future, they say, because online casinos have a growing problem on the horizon. Research shows that an operators' biggest problem is not retaining their players – it's acquiring new ones. And Millennials (Generation Y, those born between 1980-1994), and Generation Z (born 1995-2010) are largely apathetic to the games found in online casinos.
Not because they have a moral objection to gambling (they are more than happy to bet on sports events, for example), but because the games themselves just don't interest them. They are boring to a group of people who play fast- paced action games, people who are embracing VR and AR, and who do all of this using well- honed, much-practiced skills.
For mainstream gamers, pushing a button and waiting for a randomly generated row of cherries to line up, just doesn't cut it. And that's a huge problem as these age groups are the potential gamblers of tomorrow. Millennials, for example, spent the least amount of time on gambling and exhibited the lowest scores on the number of days for slot gambling, among all generations.
Evoplay says it's a problem with a fix, because these people do love playing games. They just need the right games. Almost 90 per cent of Generation Z, and 83 per cent of millennials, play video games on smartphones, gaming consoles and computers at least weekly and, at most, daily.
The average gamer plays for almost 8.5 hours each week. There are 3.24 billion of them in the world, 70 per cent are over the age of 18 and, on average, are 34 years old. They have disposable income and are often homeowners. They like to bet on sports. They just need to find iGaming products that appeal to them.
In short, Star Guardians brings together all of the components that gamers love. Ivan Kravchuk, Evoplay CEO, explains: "Star Guardians blurs the lines between Gaming and iGaming, audiences of players, game genres and entertainment itself – presenting an entirely new entertainment experience.
"Star Guardians gives you the opportunity to feel like a hero and see the game through his or her eyes. It's the biggest budget game in our history, and it's more than just a video slot – it's a whole new type of gaming experience for gamblers."
The full manual control third-person shooter, character selection (you can actually change character during the game without affecting your results) and gameplay that runs seamlessly on mobile devices, make the title appealing to iGaming's missing audience. But there's more going on behind the scenes.
An Evoplay music composer and sound designer said: "I love the effect of immersion in a techno world of the future – epic battles, sci-fi design, the growth of tension and dynamics – and Star Guardians delivers exactly that. The musical accompaniment I worked on plays a significant role too, as it audibly enhances the game story and conveys a sense of 'presence' in the gameplay."
That sense of 'presence' is a key engagement tool – and in Star Guardians everything was designed to pull you into its world. From teaser videos that looked like film trailers, to billboard promo that urged people to "answer the call" and fight to save humanity, the product experience itself is a call to action for gamers.
One of the company's concept artists described it thus, "Star Guardians gives a unique experience, and one not limited to the traditional creation of a game. It also included work on a comic book and art book based on the game.
"I'm proud of all the work we have done to create immersive materials. Space, planets, a journey into the future, discovering something unusual, mysterious and incomprehensible – is there anything more exciting than that?"
"Star Guardians captures your interest from its very first minutes. Here, everything is in balance: history, heroes, opponents and content that puts the player in control of the action aspects of the game. And that's why everyone in our industry should be excited about what Star Guardians represents. It's our future online casino audience."
Or, as Ivan Kravchuk puts it, "Welcome to console-level fun, without the console."