By
Lewis
- 8 June 2021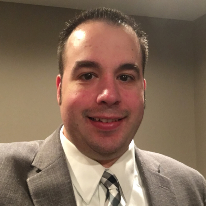 Ahead of his appearance at SBC Digital North America on June 9-10, G3 speaks to Andrew Winchell, Director of Government Affairs at FanDuel, to discuss where the industry now sits in the state-by-state regulation of sports betting.
What is your remit as Director of Government Affairs for FanDuel?
My role at FanDuel is focused on state level efforts to secure passage of legislation that will allow market entry, and/or improve our ability to operate, for one or more of our products (fantasy sports, sports betting, iGaming, horse racing ADW).
In working to achieve these goals I am engaged in "on-the-ground" lobbying across many states and review and comment on pending legislation concerning these issues. Additionally, after successful passage of legislation, I review and draft initial comments on the resulting regulations.
Having previously worked in the New York State Senate directing the Committee for Racing, Gaming, and Wagering, what encouraged you to transition into the gaming industry?
Having worked on gaming issues for the better part of a decade, I developed a background in gaming policy and wanted to continue in that direction. With both the Supreme Court ruling on PASPA and the retirement of my mentor and boss, Chairman Bonacic, in 2018 there was a "push and pull" effect for me to leave working for the Senate and transition to working in government affairs in this rapidly developing industry.
The US is experiencing a generational shift in its gaming laws. Where does the industry sit in the state-by-state regulation of sports betting?
While it may not seem to outsiders as the most efficient way to regulate the industry, historically, states have always been primarily responsible for gambling laws and regulations in the United States, and I don't see that changing.
That said, many states have embraced the ability to legalise sports wagering and have been able to learn from the successes of early adopter states, like New Jersey. This provides many opportunities for new states to align their statutes and regulations wherever possible with other states and ease compliance burdens on operators.
What role has COVID-19 had on the pace of legislation?
COVID-19 impacted the nature of working with legislators and early on their focus was on more immediate issues related to the pandemic. In addition, many state legislatures adjusted the timing and process of their legislative sessions in 2020. All of this temporarily slowed progress on sports betting and iGaming legislation.
However, as legislators and the gaming industry are looking to grow revenues both mobile sports wagering and iGaming have attracted greater attention in 2021 and I see this trend continuing into the future.
How do you anticipate regulatory scrutiny to change in the US over the coming months and years?
I expect that there will be an increased focus responsible gaming, both in messaging and in actively providing assistance to individuals who have issues gaming responsibly. Additionally, I expect an increased focus on regulatory compliance and ensuring that operators are abiding by the laws and regulations that are in place.
One way to achieve this is for people like me to work with legislators and regulators to improve consistency of legislation and regulations across states where possible to ease the compliance burden.
How should operators prepare for increased regulatory scrutiny? How can operators stay ahead of regulators and best demonstrate compliance?
There is no substitution for communication and collaboration. The last thing a regulator or elected official wants is to be blindsided by an issue arising – that is when they are most likely to take dramatic action reflexively.
By actively working with regulators to improve the operations of the regulated market, responsible operators can build trust and understanding. This, in turn, can engender a collaborative, as opposed to a unilateral, response when issues arise and even prevent issues from developing in the first place.
What is FanDuel doing to take the lead in ensuring player safety and minimising risks?
As the mobile gaming industry leader in the United States, we believe promoting responsible gaming behaviours is a core tenet of growing our business and the industry as a whole. FanDuel has updated our Responsible Gaming website with new ways to interact with our tools and provide resources to our customers.
We have a core company philosophy that we cannot grow our business without Responsible Gaming being an integral part of everything that we do. We are committing substantial FanDuel resources to responsible gaming initiatives and are encouraging our partners on the league, team and media levels to join us not just in March (Problem Gambling Awareness Month), but throughout the entire year.
Are there any lessons US gaming companies learn from mature markets?
Getting ahead of responsible gaming issues is a key takeaway and in concert with that, industry self-regulation on advertising content to prevent messages with are in contravention of responsible gaming.
As has been seen throughout Europe, legislators and regulators can take aim at advertising if they believe the industry is not behaving responsibly. If they do, this will only hurt conversion of customers from the illegal, offshore wagering market where customers are not protected.
What states do you expect to see regulated in the near future?
Beyond the states that have already passed, but not yet implemented their legislation (Arizona, Maryland, New York, Wyoming), I believe there is a good possibility for some or all of the following states to pass sports betting legislation before the end of the year: Connecticut, Louisiana, Massachusetts, North Carolina, and Ohio.
Moving forward, it is realistic to believe online sports betting will be available to 65 per cent of the US population by 2025.