By
Phil
- 28 May 2014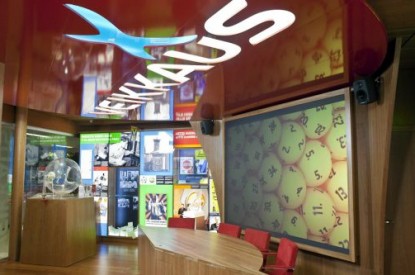 GTech's Proxilotto software has enabled Veikkaus Oy (Veikkaus), the operator of the Finnish National Lottery, to launch its new daily geolottery game.
In Finland, the Proxilotto game has been branded as "Naapurit," which translates to "neighbours" in English. Players register by purchasing a Player Card or subscribing to tickets from a retailer, on the web, or on mobile. Once a jackpot winner is drawn in a random raffle, a second round of winners is selected among players who live the closest to the original winner.
Those geographically closest to the jackpot winner receive larger cash amounts. Daily draws have been broadcast on live television and live web streams in Finland since May 11, 2014.
Proxilotto, an optional feature of GTech's Enterprise Series lottery central system, uses GTech proprietary multi-point distance logic to determine a "second win class," so a lottery can select multiple proximity factors to identify additional winners. For Veikkaus' game, the players' geographical location is used with GTech logic in combination with third-party standard web mapping services. As with the Veikkaus project, the Proxilotto game can also incorporate licensed third-party branding and visual design elements so players in a specific region can seek out their lottery's familiar look and feel. Lotteries using GTech's Enterprise Series lottery central system can easily design other game formats around the Proxilotto logic.
GTech International Senior Vice President and Chief Operating Officer EMEA Declan Harkin said: "Veikkaus' decision to use GTech-developed Proxilotto technology as the engine behind its new geolottery game demonstrates its trust in the integrity and functionality of our solutions. This exciting new game reaffirms Veikkaus' position as one of the world's most successful lottery operators, and will help to sustain and grow its gaming program, which ultimately benefits all Finns."
GTech's Proxilotto software, built on industry-proven raffle game logic, was purchased by Veikkaus as part of a five-year contract signed in 2012, which extended GTech's original 2004 agreement to provide operational and professional services to support the Lottery's continued development of new games and sales channels. Veikkaus has been a valued GTech customer since 1989. Proceeds from the Lottery support amateur sports, the arts, sciences, and youth initiatives in Finland.