By
Phil
- 30 June 2023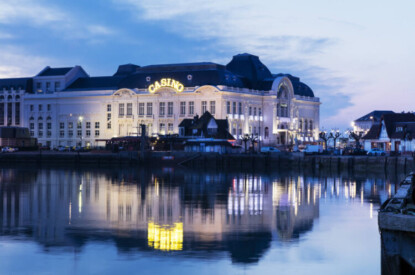 The Barrière group, which has been operating the Trouville-sur-Mer casino in Calvados since 1992, has been given a 15-year extension for the operation of the casino.
Two options had been offered to candidate concessionaires: a 12-year contract, not including the Italian-style theatre, or another 15-year contract, including the said theatre, as well than real estate investment obligations concerning him. By opting for this current public service delegation over 15 years, the Barrière group has promised to carry out a complete restoration of the theatre. In addition to the €4m granted for the renovation of this space, an additional €8m should also be invested in order to completely rethink the casino, which will maintain its activity during the works.
"The quality project supported by the Barrière group perfectly meets the expectations of the City", said Sylvie de Gaetano, Mayor of Trouville-sur-Mer, during this city council, adding that the offer of games would be enhanced by an increase in the number of machines and a renewal of traditional gaming tables. The city councilor also underlined the concessionaire's desire to improve the catering offer offered at the casino, by integrating short channels or by developing the fast food offer. In addition, the animation offer will be improved. "The group also plans to hire 36 people on permanent contracts and three seasonal workers," she announced.

To maintain the operation of this casino inaugurated in 1912, listed as a historical monument in 2016, which houses 200 slot machines, 29 electronic English roulette stations, 14 electronic Black Jack stations and seven traditional game tables (English roulette , Black Jack and Boule 2,000), the Barrière group has undertaken to donate to the municipality 15 per cent of the gross gaming revenue (GGR) generated. To this will be added an annual fee for occupying the public domain of €268,000.
At the end of the 2021-2022 financial year, the Trouville-sur-Mer casino generated GGR of €21.23m, rising to 27th place in the French casino ranking.