By
Phil
- 17 May 2019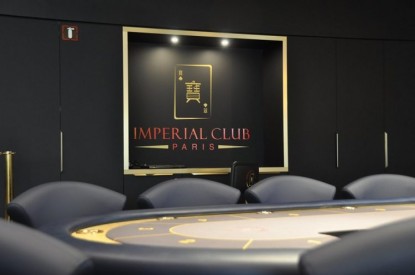 The Imperial Club Paris, owned by the Raineau group, which was to be the second Parisian gaming club to open, has been forced to delay its May 6 opening.
Due to be the first gaming club in the heart of Chinatown 'for fans of card games,' the venue will open within the Masséna shopping center. The most recent delay to the opening of the 888 square-foot gaming club was, according to its owners, 'beyond their control.'
Anne-Christine Lang, MP LREM and Councilor of Paris in this district, said: "After the excesses and the malpractices of the Circles of games closed definitively, the Parisian executive, the majority of the Council of Paris and that of the Assemblies have rightly considered that it was important that the City of Paris, first tourist destination in world can be provided with a game offer on the condition that it is subject to a very strict control from the Ministry of the Interior, For the sake of consistency and because it is important that the laws voted apply," she adds, "I support the establishment of this establishment in the 13th arrondissement. However, residents' concerns must be heard. Despite the guarantees that have been given, many residents have expressed their concerns and fear the consequences of the opening of this facility on the environment and public order. These concerns were relayed by the Mayor of the 13th and the Parisian executive, who had however approved the principle of the opening of gaming rooms in the Paris Council.'
The delay was due to opposition from local elected officials that has slowed down the administrative procedures. The Imperial Club was cleared on June 12, 2018, to open with 24 tables.
The first establishment authorised to participate in this experimental phase was the Paris Elysées Club, which opened on April 25, 2018, next to the Champs-Elysées.
The openings of Parisian gaming clubs should increase in the coming months. The Circus Club Paris of the Ardent Belgian group should be opening soon. The Barrière Club has invested the former premises of the Aviation Club de France, on the Champs-Elysées (8th arrondissement), opposite Fouquet's. It will have to undergo major renovations. Club Berri, a stone's throw from the Barrière club, is expected to open this summer. With 12 tables, it will focus on matching games, including the Punto Banco. The Montmartre Club will open inin the premises of the old circle Clichy-Montmartre, closed last year by administrative decision.
Finally, the Joa Royale Club will open at the end of 2019. The Advisory Committee on Circle and Casino Games (CCJCC) had examined its file on December 11, 2018. The Joa Royale Club has asked for 18 tables.