By
Phil
- 5 August 2022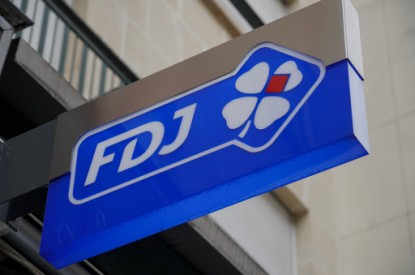 La Française des Jeux (FDJ), France's leading gambling operator, has announced its results for H1 2022, with strong growth in lottery revenue, up 17 per cent, with all points of sale open in 2022, whereas 10 per cent of them were closed in H1 2021.
Sports betting revenue was down by five per cent, reflecting a high 2021 basis of comparison (UEFA Euro 2020) and before the FIFA World Cup at the end of the year. There was a rebound in online lottery stakes in Q2, up 31 per cent compared to Q2 2021, i.e. up 14 per cent over the half year, driven by growth in the number of players
The Lottery BU's revenue in H1 2022 was €946m. Its 17 per cent increase was in line with the increase in stakes of €1,138m. In H1 2021, the measures taken by the French authorities to contain the Covid-19 pandemic affected point-of-sale activity, particularly in bars.The increase in stakes for draw games, up 19 per cent to €3,088m, was driven by Amigo, whose stakes returned to their 2019 level, and Loto and Euromillions, which benefited from several long cycles and various events, such as the Super Loto on Friday 13 and the multiple Euromillions millionaires in January.
Stakes in instant games were up 15 per cent to €4,927m, thanks in particular to the rebound in footfall at points of sale and the management of the games portfolio with launches and relaunches, including Cash, one of the most iconic games in the Illiko range.
The increase in point-of-sale stakes of nearly 17 per cent mainly reflects the network's return to normal, but also the good intrinsic momentum of the games.
The rebound in online lottery stakes in Q2, up 31 mper cent compared to Q2 2021, i.e. +14 per cent for the half-year, was entirely driven by growth in the number of players. Over a rolling 12-month period to the end of June 2022, more than 4.5m players played one of the online games of FDJ.
In H1 2022, the player payout ratio for sports betting was 76 per cent, compared to 77.5 per cent in H1 2021, when the main competitions were won by the favourites. This decline in the PPO explains the difference between the change in revenue, down five per cent to €232m and stakes, down 11 per cent. The change in stakes mainly reflects a high basis of comparison with UEFA Euro 2020 football tournament, which started on 11 June 2021, as well as a less busy calendar and less attractive competitions in H1 2022.
Sales costs amounted to €110m, down 13 per cent compared to H1 2021. They mainly correspond to PoS commissions, which changed in line with network stakes.
Stéphane Pallez, Chairwoman and CEO of the FDJ Group, said: "The second quarter confirmed the positive trend at the start of the year, notably for the Lottery. Our business grew over the half year, both at points of sale and in digital. Given the deterioration in the global economic environment, the Group remains cautious but confident in its outlook, based on its extensive and responsible gaming model. We continue to invest to back the development of our activities, including those of Payment and Services, with to two acquisitions, Aleda and L'Addition. The Group is pursuing its sustainable and profitable growth strategy for the benefit of all its stakeholders. "