By
Phil
- 15 March 2021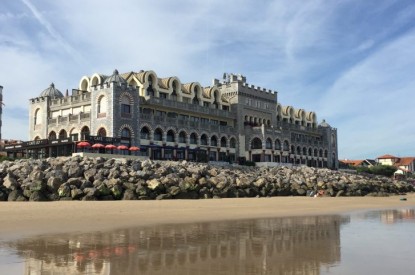 The Hendaye casino in the Pyrénées-Atlantiques region of France has changed ownership with Thierry Hirigoyen's TH Finance group selling the casino to Benjamin Frischer and Patrick Delahaye, two men who are well known in the French gambling sector.
Benjamin Frischer, 45, took over the casino in Cauterets in Hautes-Pyrénées in March 2007, which he operated until September 2013. After a two-year stint in Hugo Corbillé's group, the Société Française de Casinos (SFC) entrusted him with the management of Capvern-les-Bains, also in Hautes-Pyrénées, in August 2016, until the casino was sold at the end of 2019. Patrick Delahaye , aged 57, opened Club Berri in Paris in October 2019, before selling it last May to the Partouche group.
Patrick Delahaye is Chairman of the L'Aventure holding company, in which he holds 51 per cent with Benjamin Frischer holding the other 49 per cent. L'Aventure owns 100 per cent of the operating company of the casino, Hendaye Loisirs, whose chairman is Mr. Frischer.
After selling his Parisian club, Mr. Delahaye wanted to reinvest in a small casino. The Hendaye establishment, whose DSP will be completed in 2030, corresponded well to this research. At the end of the 2018/2019 financial year, it was ranked 184th out of 201 French casinos, with gross gaming revenue of €1.863m
Thierry Hirigoyen and Patrick Delahaye have known each other for several decades which facilitated the transition.
Benjamin Frischer said: "We are redoing the casino from floor to ceiling, it really needed investment to bring it up to date. The idea is to create a very cozy and warm club atmosphere. We have completely redesigned the casino's gaming areas with the cash register / VDI merger at the entrance, with an area dedicated to current and future electronic games. A traditional English roulette table will complete the existing Black Jack and we also wanted to imagine a "dynamic and digital animation" area."
The interior decoration will be changed. The restaurant will be transformed into a lounge restaurant and the terrace with its teak floor can accommodate up to 50 people with a breathtaking view of the sea.
The gaming floor will also increase from 233 to 350 m2 with a third of the 50 slot machines being replaced. The management of the slot machines will be entrusted to the Appolonia software and the video surveillance to Eurocap, which will also equip the entrance to the casino with a thermal camera to welcome customers. Nearly 38,000 visitors passed through the casino's door in 2018/2019. It had a very local clientele but with some Spanish customers being attracted over the border which is only a few hundred meters away.