By
Phil
- 17 April 2019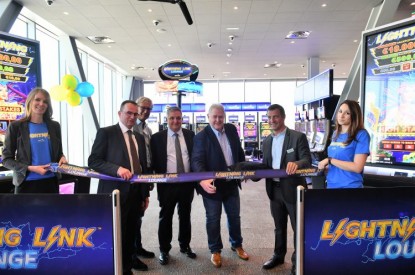 French casino operator Joa Casino has installed Europe's first Lightning Link Lounge made up of 24 slot machines from Aristocrat in an Aristocrat themed space at its La Seyne-sur-Mer in the Var region.
Joa opened its Lightning Link Lounge on April 4 at what it describes as its 'new generation' of and flagship casino. The lounge hosts 20 slots with four installed on an external patio, all connected together to a powerful progressive jackpot of at least €10,000.
Laurent Jourdain, Director of the Joa group's games, said: "The Joa Group has always relied on audacity and innovation to achieve its main objective: to change the way people look at the world of casinos.
This is reflected in particular by the introduction of innovative products in exclusive worldwide or European. In recent years, we have offered many new products to our customers in preview or exclusive to European players.
We continue this momentum with the concept of the Lightning Link Lounge. We are proud to be the first to offer it exclusively on the French market and proud to have it installed it first on the European stage. The 24 connected slot machines offer, in an exclusive staging, a unique gaming experience with bonuses and a frequency of jackpots even more important, to the delight of the players.
"Lightning Link is now offered in almost all our establishments," he added. "They are among the favorite products of our players who are our best advisors. This attractive concept has been put in place to satisfy our customers looking for novelty, feel and comfort of games but also to recruit a new, more connected clientele.
Mr. Jourdain added: "The 'new generation' casino Joa, La Seyne-sur-Mer, flagship of the group, was chosen because its ambition is to remain the leader in its area and offer products always at the forefront of innovation. Beyond this new concept, we recently launched Joaexpress, the world's first blackjack initiation table in virtual reality. Lightning Link offers players more comfort, more playing time and more chances to win the progressive jackpot of € 10,000 minimum for a bet of € 0.50. This concept will soon be rolled out at other Joa Group locations, but I can't tell you anything yet."
Caption: Aurélie Pichon, Joa La Seyne-sur-Mer Casino Sales Manager, Laurent Jourdain, Joa Group Games Director, Eric-Jan Van den Berg, EMEA Aristocrat Sales Director, Christian Colus, Head of Sales, Southern Europe Aristocrat, James Boje, Managing Director Director EMEA Aristocrat, Dylan Peyras, Casino Manager Joa La Seyne-sur-Mer, Marine Pastourely, Casino Marketing Assistant Joa La Seyne-sur-Mer