By
Phil
- 18 December 2018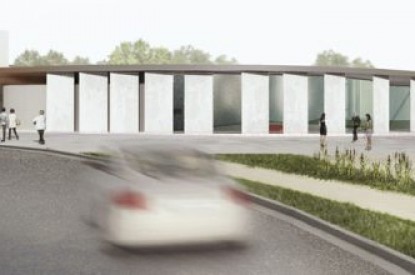 French casino group Partouche has opened its newly relocated casino in Pornic's La Ria district in the Loire-Atlantique region of France, having relocated it from its previous site at the town's port area.
Following its 14 month construction in the botanical gardens of La Ria, the elliptical casino was opened in the presence of Patrick Partouche, Chairman of the Supervisory Board of the group, Fabrice Paire, Chairman of the Board, Ary Sebag, Chief Executive Officer and Jean-Michel Brard, mayor of the municipality. The establishment is already a real success. Previously confined in a building dating back to 1908, the casino of Pornic has been moved from to new quarters in the Ria, between the botanical garden and the old port.
Pornic is located 30 minutes from Nantes and 20 minutes from St Nazaire. It is the closest gaming establishment from Nantes (54 km). As Brard told the Journal des Casinos, the future transition to four tracks of this axis – work has begun – should enhance its attractiveness
Casino Director, Stanislas Varella said: "The building that we were in previously was certainly splendid but much of the equipment had become obsolete. It was proving difficult to migrate between the slot machines and gaming tables. All this prevented us from offering a modern casino concept to our customers."
The new building has 500 free parking spaces including 120 underground. Slot machines and gaming tables are combined in a vast open space of 800 m2 with views of the Ria. At the same time, a large 180 m2 indoor play area welcomes smokers. "This is unique in the region," Mr. Varella added.
The casino has expanded its slot offering from 114 to 150 machines with a progressive multi-site jackpot whilst with 30 electronic English roulette terminals, it has the largest electronic roulette offering the in Loire-Atlantique.
It has also doubled its restaurant capacity from 60 to 120 seats something that no other casino in the area offers. By 2020 the casino will boast an adjoining 4-star hotel.
Another unique feature is the theatre. The Pornic casino finally has a room dedicated to shows with 850 seats and two seminar rooms. "With a modular scene of up to 100 m2, we have the means to offer programming ranging from intimate moments to more spectacular concerts," explained Mickaël Le Clec'h, Marketing & Communication Manager.
In this case, the program is already promising, with the arrival of Michel Fugain, Artus, Chantal Ladesou and the comedian Bajon in the coming months.
"From next year, we will organise bingo nights, cabaret, a Chippendales evening. There will be really something for all tastes and all ages," Mr. Varella explained.