By
Phil
- 10 December 2014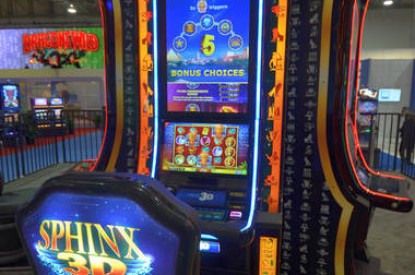 Players across four casinos with the prestigious Groupe Partouche in France can now experience a new dimension of gaming with GTECH's TRUE 3D title,SPHINX 3D.
Based on the highly successful Sphinx theme, and using patented, award winning 3D display technology, GTECH has created an unrivalled gaming experience.
The SPHINX 3D game is the first of its kind to use a glasses-free 3D display, and the first game released as part of GTECH's TRUE 3D line. It pairs autostereoscopic technology with eye tracking that constantly adjusts the image based on the player's line of sight. This generates a high-resolution image that leaps off the screen, creating an experience unlike any other game on the market. The game runs on the AXXIS cabinet, which creates a sense of personal space and maximizes player comfort. The cabinet, combined with the TRUE 3D technology, produces an all-encompassing 3D experience.
"We have chosen GTECH's SPHINX 3D machines because they are a true innovation. For our locations, it is the perfect highlight on the slots floor, with lots of potential to create very strong external communication around it," said Fabrice Paire, General Director of Groupe Partouche. "The eye-catching exterior of the AXXIS cabinet, combined with the amazing 3D effects, are exactly the kind of product we want to offer our players. We believe that these are the best premium machines."
Groupe Partouche has installed 24 SPHINX 3D machines in their casinos in Aix-en-Provence (Bouches-du-Rhône), Saint-Amand-les-Eaux (Nord), Pornichet (Loire-Atlantique) and Le Pharaon à Lyon (Rhône).
GTECH International Vice President of Commercial Gaming Marcel Heutmekers said: "The feedback we are receiving from operators as well as players is extremely positive. Players are enjoying the 3D effects, as they enhance the typical gaming experience and add an extra level of excitement. The efficiency of the installation, as well as the customer satisfaction, has demonstrated our team's professionalism and commitment. We are looking forward to introducing more TRUE 3D titles to the industry in the months to come."
The SPHINX 3D game, which is live in numerous casinos across Europe, has won three industry awards, including first place in Casino Enterprise Management Magazine's 2014 Slot Floor Technology Awards; a platinum award for the most innovative product of 2013 in Casino Journal's Top 20 Most Innovative Gaming Technology Products Awards; and first place in the Best Slot Product category for Global Gaming Business Magazine's 12th annual Gaming & Technology Awards. The latest True 3D products will be on display at the ICE Totally Gaming show in London in February.