By
Phil
- 4 July 2022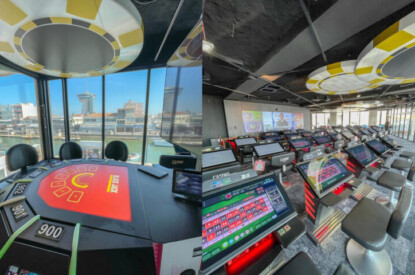 As it published its half-year results, the Partouche group provided an update on recent investments aimed at renovating and increasing the gaming offer at several of its casinos.
After obtaining a new licence for 20 years in Palavas-les-Flots (Hérault), the Partouche group carried out a major phase of work. This restructuring has made it possible to increase the playing area and enhance the entrance to the establishment, the room located upstairs, the restaurant, the facade and the parking lot. From now on, the ground floor will be exclusively dedicated to slot machines, while the upper floor will host table games, both electronic and traditional.
The Partouche group has also undertaken heavy work in its Le Lyon Vert casino, in La Tour-de-Salvagny (Rhône), where a vast extension on two levels is being carried out. This work aims to develop new play areas, the current ones having become too cramped. They are also increasing the non-gaming offer with the creation of event rooms. Finally, the exteriors will be upgraded with, in particular, the creation of two car parks: one for visitors, the other for staff.
The group also announced large-scale work was underway in Annemasse (Haute-Savoie), in order to open the left wing of the establishment and create an extension there too. Two outdoor games rooms, a veranda for a dining room and a large open hall at the entrance are planned. The works should be completed in June 2023.
Finally, the group recalled that from July 1, the concession to operate the casino in Middelmerke, Belgium, comes into force.