By
Phil
- 17 September 2016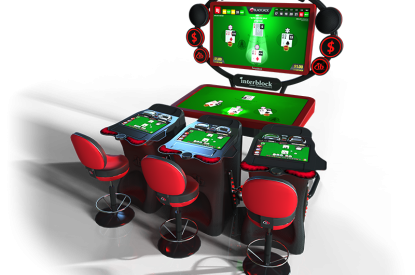 Interblock will be showing its new Video Blackjack for the first time in North America when it exhibits at the Global Gaming Expo in Las Vegas.
Video Blackjack consists of a computer with a random number generator and two large LCD player information display where the computer-generated animation of the game progress is displayed. The vertical LCD tracks the dealer's hand results and statistics for a customizable amount of games and the horizontal player information display that reveals all players hands to your patrons.
The vertical player information display can be customised to a cards only setting, a virtual dealer professional setting, or virtual dealer beginners version. The beginners version helps the player throughout the game and offers visuals and audio that celebrate the player's wins. On each play station, their dedicated LCD display will also present the games progress.
It can be configured with three play stations for smaller venues or five stations, optimal for speed of play and can include the Lucky Aces side bet.
Interblock will be showing a new look team for both North and South America with Jennifer Saragnese, Rick Riehm and Mike McKiski all strengthening its North American team whilst Andres Morano and Ariel Castillo will be unveiled as the new Latin America Sales Directors based out of Buenos Aires, Argentina.
Elsewhere, John Connelly, Global CEO will participate in an in-depth panel discussing how Electronic Table Games suppliers hold the key to evolving products, and why ETGs are crucial to building successful casino revenue streams. Mr. Connelly will offer data-driven insights into existing and potential electronic table game players. He will also discuss an ETG's ability to reach across all demographic boundaries and produce incremental revenue on the casino floor.
Mr. Connelly will share key findings from The ETG Player Portrait, the industry's first and only ETG player study, which defines who ETG players are and why they are critical to gaming business. The report found that
ETG players play more often. ETG players are more likely to be "core" players who play more often than non-ETG players. 46 per cent of US. ETG players played six or more times in the last 12 months, compared to only 33 per cent of non-ETG players. In Canada, the statistical significance is even stronger: 54 per cent versus 34 per cent.
ETG also players play longer per session than non-ETG players do. In the U.S., they play approximately 10.7 per cent more per session than non-ETG players do. In Canada, that average is 15 per cent more.
ETGs attract game-agnostic players who enjoy a variety of live and electronic games, meaning ETG players are willing to play something new, or at least not leave when his/her favourite game is occupied. This means ETGs give players an option to turn to when they are bored with or have finished playing slots.
ETG players enjoy slots and table games in addition to ETGs more than non-ETG players do. Not having ETGs on the casino floor means the opportunity to extend the trip is lost.
"I am honoured to have this opportunity to speak on Interblock's behalf regarding the evolution of gaming, particularly table games technology. The casino sector is in a transitional stage, looking for new products that will not only keep existing players playing longer, but will attract new players as well," saidConnelly. "I look forward to exploring the key findings of our ETG Player Portrait, and having a thoughtful discussion with the other panelists."
Other panelists include Debi Nutton, Executive Vice President of Casino Operations, Wynn Las Vegas, and Baybars Oral, Senior Vice President of Slot Operations, Marina Bay Sands PTE LTD.