By
Phil
- 28 September 2017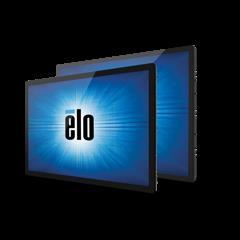 Elo will show two recently launched large-size gaming touchmonitors, the 4343L and 5543L, extending size options of the open frame product line from 10.1-inches to 54.6-inches.
Available with Elo's industry-leading TouchPro Pro-M Projected Capacitive (PCAP) touchscreen, the 42.5 inch 4343L and the 55 inch 5543L both offer up to 12 touches recognized simultaneously with a consistently fast, accurate and drift-free touch response. With the sleek edge-to-edge architecture, the surface is easy to clean with no edges to trap dirt or grease and with the touchscreen sealed against dirt and dust, integration into an enclosure is simple.
The large format open frames offer multiple mounting options, 24/7 operation and support touch through glass making them ideal for self-service kiosks and gaming applications. UL60950 ball-drop test compliance supports applications in demanding public access venues such as busy casino environments. The full HD displays and high contrast and brightness panels ensure crisp images and vibrant colours that will catch the player's attention. The seamless glass front and the option of through touch capability allow for modern cabinet designs.
All large format PCAP products are not created equal so it is important to pay attention to the construction and materials used. For example, products using so called wire mesh have visibly embedded wires that distract the user and take away from the aesthetics of the display.
The Elo Pro-M PCAP touch screens use a highly transparent metal mesh film with ultra-thin electrodes carefully arranged in an irregular grid pattern on layers of plastic film. The metal mesh electrode sizes are so small that they cannot be seen with the naked eye, which allows Pro-M designs to deliver a very sensitive touch experience.
As all other Elo gaming products, these new touchmonitors are built and designed for touch, backed by a 3-year standard warranty. Elo is proud to be the only company in the world that produces its own touch screens, ASICs, firmware and software drivers in-house.