By
Phil
- 26 September 2012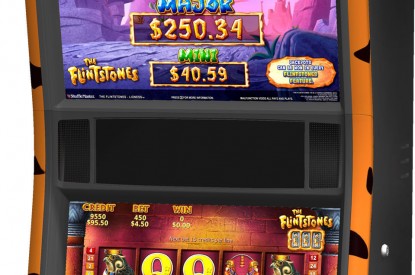 Shuffle Master will be showing its newest slot title The Flintstones at G2e Las Vegas, after a successful debut at the Australian Gaming Expo in August.
Designed to make a big impact on the gaming floor with its broad appeal, The Flintstones is a three-level standalone progressive, low-denomination product with a suite of exciting base games and attractive jackpot prizes. Each bonus feature evokes classic scenes from the original TV show, such as the ten-pin challenge at Bedrock Bowl, the family night out at The Drive-In and the antics of Fred Flintstone's lovable pet dinosaur in Dino's Dig.  The Flintstones also introduces Shuffle Master's new "mini-reel" feature trigger that ignites the player's anticipation during game play.
Upon its introduction at the Australian Gaming Expo, Adrian Halpenny, President of Shuffle Master Australasia, commented: "We're thrilled to be able to offer such an iconic brand as The Flintstones.  Our game development team worked very hard to deliver a final product that demonstrated meticulous attention to detail in order to maintain the high quality and authenticity of the television series. As a result, The Flintstones is a breakthrough product that is not only highly enjoyable to play as a traditional gaming machine, but also brings the much-loved characters to life with entertaining and engaging features."
With new innovation on display in each of its five product categories, this year's G2e will underscore Shuffle Master's consistent focus on developing cutting-edge solutions and fresh content, which, in turn, leads to 'A Better Game' for casinos and for players.
Gavin Isaacs, Chief Executive Officer of Shuffle Master, said: "With over 50 products on display, our G2e lineup will demonstrate why Shuffle Master is not only a driving force in gaming technology and innovation, but also how our diverse product mix sets us apart as a supplier and a partner to our customers."
Showcasing over 25 new and proven titles, Shuffle Master's slot machine line-up will likely be one of the major focal points of the booth.  The company's single cabinet video strategy and deep portfolio of content highlights how it has been steadily gaining floor share in a growing number of markets around the globe.
Its slot machine roster will also feature: Cats, Hats & Bats, Hubble, Bubble & Trubble, Pink Panther Returns, Epic Quest, Random Magic, Karnak, Duo Fu Duo Cai Linked Progressive, and many more of the Company's popular titles.  All of the titles offer unique features like new mathematical models, new jackpot triggers, and new themes.
In addition to launching new poker derivative specialty table games and current twists to its existing game portfolio, Shuffle Master is debuting several intriguing blackjack side bets at G2e. Based on initial customer reaction, one game in particular, House Money, has the potential to become a staple in the blackjack pit.  To win the side bet, the player's first two cards must be a straight, pair, straight flush, or Ace-King suited, but the winning doesn't necessarily stop there. The player may opt to add all or part of their side bet winnings to their standard blackjack wager and play continues like a traditional game of blackjack.
"We will also be showcasing new technology in our progressive category, a clear demonstration that we haven't stopped challenging the status quo and we continue to explore ways to make our specialty table game offerings more compelling," said Mr. Isaacs.
Shuffle Master will also unveil the DeckMate 2 poker room shuffler, which offers significant performance and security improvements over its predecessor, the DeckMate.  Debuting in 2002, the DeckMate poker shuffler has been a staple in the poker market and one of the best-selling shufflers of all time.  At 22 seconds, the DeckMate 2's shuffle time is twice as fast as the original and it features optical card recognition, which increases game security and integrity.  A new shuffling method reduces wear on cards and minimizes the need for frequent shuffler maintenance. Other exciting features include an on-board timer, which allows operators to call the "clock", and a remote touchscreen display with an intuitive user interface for card verification.
The company will be unveiling the most robust e-Table offerings in its history at G2e, including a myriad of new features for the Rapid line, which combines a live dealer with a touchscreen-betting interface.
"We will be introducing what we consider the most significant iteration of the Rapid product line with upgraded hardware and software completely modernizing the experience," Mr. Isaacs continued.  "From both an aesthetic and functional point of view, we are confident that the new Rapid Fusion is a highly competitive and superior e-Table innovation."
Rapid Fusion includes a multigame feature for optimal flexibility – and takes it a step further.  In addition to allowing players to switch between baccarat, roulette, or sic bo without ever having to leave their seats, Rapid Fusion allows for concurrent play of four games at the same time.  The user-friendly interface features tabs, which show table status, countdown, wagers, and results from each game and allow for fast switching between games.
Last but not least, Shuffle Master's online line-up at G2e will highlight over 10 renowned brands, including top-performing specialty table games like Ultimate Texas Hold'em, Three Card Poker, Casino War, and Let it Ride.  Shuffle Master online games can be embedded into an operator's website with only a few lines of code; the free-to-play offering can integrate casino rewards points to help drive people into brick-and-mortar casinos and encourage new user sign-ups, or be directly integrated into a customer's existing free-to-play social offering.