By
Phil
- 25 September 2012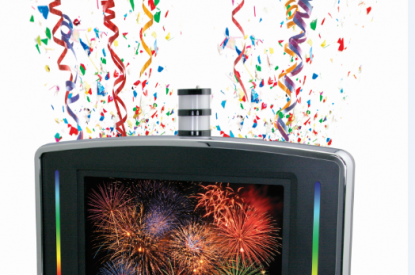 Suzo-Happ will be presenting five critical components that help make every gaming operation more efficient, cost-effective, and profitable at this year's G2e namely; Suzo-Happ hopper line, Celebration Toppers, Airistar Filters, QTBrightek LED lighting, and PALtronics components.
The Evolution Coin Hopper has recently been re-engineered by Suzo-Happ's R&D professionals, resulting in the best belt-driven hopper available. Its superior design is suitable for 95 percent of the world's coins and tokens, without any adjustments. Strong plastic construction and large DC/electric motor construction make it powerful, strong, and quiet. It is protected by anti-jam electronics and low- and high-level sensing, and comes standard with a 1,500 coin capacity.
Operator feedback resulted in the new excel hopper, the latest edition to Suzo-Happ's hopper line. A smart planetary gearbox system combines maximum torque with minimal power consumption. Its silent operation, easily accessible coin exit and simple integration are among the excel hopper's advantages.
Also in the line is the Cube Hopper MK2, the most reliable small hopper available anywhere. It is constructed of the highest quality plastic, making it extremely durable. Because it is a single-denomination hopper, it is one of the fastest on the market, processing coins at about seven per second. An integrated optical read-out sensor is strategically located under the platform so the sensor is protected from light and dirt, meaning longer and more accurate performance.
The newest addition to Suzo-Happ's hopper line is the Flow Hopper, an innovative through-hole coin disk hopper with extremely durable construction and a flexible design. The Flow Hopper is available in two interfaces – either standard parallel or ccTalk serial, and can pay out at seven coins per second. It also has optical sensor check and anti-jam features.
To bring a higher level of excitement to the casino floor, Suzo-Happ offers the Celebration Topper. It gives acknowledgement to a hand-pay jackpot with a confetti launcher, 8-watt stereo audio celebration, videos on a 15.6" LCD screen and flashing multi-colour RGB LED lights. The Celebration Topper interfaces directly into the game's SAS line, and is programmable to your level of hand-pay. Celebration videos come standard, and they can be customised.
Casinos large and small, bingo halls, AWP rooms and more will have added comfort with Airistar Filters. Smoke, odors, dust and other air impurities are filtered out with Airistar's unique multiple-stage purification processes. The entire line of Airistar Filters cleans the air and protects guests and employees from second-hand smoke, dust, allergens, and a host of volatile organic compounds.  Certain models tuck easily away into custom cabinets that double as marketing display units