By
Phil
- 20 September 2021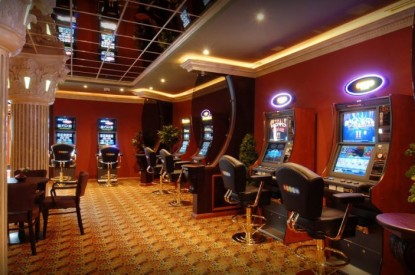 The Administrative Court of Baden-Württemberg has made an 'incontestable decision' on the location on gambling halls in the state and also the licences they are required to have.
With the entry into force of the Baden-Württemberg State Gaming Act (LGlüG) in 2012, gambling halls require a further license under the LGlüG in addition to their previous operating license in accordance with Section 33i of the Trade Regulations (GewO). Gambling halls must now keep a distance of 500m as the crow flies from one another (Section 42 (1) and (2) LGlüG). However, since in the past a concentration of amusement arcades in certain areas was wanted by building law, this regulation triggered a conflict between many existing amusement arcade operations. Because now a distance had to be maintained between companies that had existed for decades. So-called "old operations" that already existed before the law came into force, fell under a statutory grandfathering that made a new permit for these arcades with compliance with this new distance requirement necessary only from July 2017. It was therefore important for the authorities to resolve the conflicting distance between the rival companies that existed 500m away at this point in time.
Benesh & Partner Lawyer Mirko Benesch said: "In the past few weeks, a gloomy picture has emerged across almost all of the chambers of the administrative courts in Baden-Württemberg that deal with gambling hall matters. Based on various chambers of the Administrative Court of Freiburg, the Administrative Court (VG) Sigmaringen and Administrative Court Karlsruhe decided in urgent proceedings that so-called "old gaming halls" children and youth facilities within the meaning of Section 42, Paragraph 3 of the Baden-Württemberg State Gaming Act (LGlüG) as an absolute reason for exclusion may be. This would have an impact on a large number of existing businesses. The Administrative Court (VGH) has now set narrow limits for the state of Baden-Württemberg in the second instance and clarified important questions of interpretation."
For a large number of amusement arcade operators, the decisive question was dealt with as to whether the distance requirement from children's and youth facilities applies to their licensing procedures. Administrative courts in Baden-Württemberg (such as the VG Freiburg and VG Karlsruhe) have in the past few weeks restricted the protection of so-called old arcades (arcades with a permit under Section 33i GewO before the LGlüG came into force) by additionally requiring a permit also require a hardship case for the entry into force of the State Gambling Act.
One of the most important rulings was that there will be no restrictive interpretation of grandfathering rights.
Mr. Benesch said: "This decided by resolution in an urgent procedure that such a far-reaching restriction of the grandfathering is not recognizable under any aspect of an interpretation. This avoids the greatest fear of many old operators for the time being; In the case of seamless (tolerated or judicially requested by urgent proceedings) continued operation, they do not have to fear that for the first time children and youth facilities will have to be considered by the authorities as an absolute reason for exclusion in the current licensing procedures.
Unlike in other federal states, the authorities in Baden-Württemberg often did not resolve the conflict situation by making selection decisions between the arcade operators, but gave the operators so-called hardship cases. It is not uncommon for these hardship permits to expire on June 30, 2021, which is why the competition for distance was raised again for many authorities from this date at the latest.
Mr. Benesch said: "In view of the complexity of the selection process, many old arcade operators asked, in anticipation of the presumably lengthy selection process, to tolerate their operations until the selection process to be carried out by the authorities was completed. This was also due to the fact that as the June 30th, 2021 approached, it became apparent that hardly any authority could make a legally secure selection decision in good time before this day. Nevertheless, due to a decree issued by the Baden-Württemberg Ministry of Economics, the authorities refused to grant tolerances and, with recourse to the case law of the Federal Court of Justice, referred to the possible criminal liability of the arcade operators and possibly also of officials who grant an appropriate tolerance."
The threat of alleged criminal liability has unintentionally driven many amusement arcade operators into urgent judicial proceedings before the administrative courts of the state since June 2021. In particular, some chambers of the Administrative Court of Freiburg, Karlsruhe and Sigmaringen showed a very restrictive stance against gambling hall operations. Many operators lost their urgent proceedings in the first instance. Among other things, a case law emerged according to which the second distance requirement of the LGlüG, namely that of children's and youth facilities, is also opposed to "old gambling halls".
Mr. Benesch said: "VGH Baden-Württemberg also decided, like many other administrative and, in some cases, state constitutional courts, that the continued operation of an amusement arcade , which is actively tolerated, does not, of course, result in criminal liability due to the lack of a permit. This was also shown by a large number of attitudes due to a lack of sufficient suspicion in criminal proceedings defended by the law firm BENESCH & PARTNER from tolerated arcade operators. This continued operation was reported by their licensing authorities despite official toleration. These criminal proceedings were also based on indications from the Ministry of Economic Affairs, which were legally tenable.
"A minimum distance of 500 m as the crow flies, measured from entrance door to entrance door, must be observed from an existing facility for the stay of children and young people. The administrative courts also stated that the old operators without a corresponding (further) case of hardship beyond June 30, 2021, cannot invoke the so-called grandfathering regulation and thus the requirement to distance themselves from children's and youth facilities must be fully observed."