By
Phil
- 21 August 2018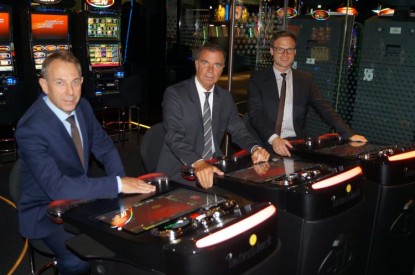 Spirit Gaming, the distribution partner for Interblock in Germany, Austria, Liechtenstein and Switzerland, has achieved excellent feedback for the installation of Interblock's Dealer Assist BlackJack at Westspiel's Casino Duisburg in Germany.
Interblock's Dealer Assist BlackJack is the new, innovative solution to bring together the traditional live game BlackJack in a semi-automated way. It can be played with or without a dealer.
Michael Wiebeck, Slots Director at Casino Duisburg explains their choice here: "At WestSpiel we continually invest to bring innovation to the casino floor. The Interblock Dealer Assist BlackJack fits perfectly into our corporate strategy. It is very stylish and modern – indeed it oozes style. It is unique as is our casino. We are seen as the trendsetters in the German casino market, being open to new ideas and fitting such a solution truly reflects this"."
Jochen Braun, Director of Live Gaming at Casino Duisburg, added: "The fact that our customers from the classical games section have accepted the Dealer Assist BlackJack proves to me that this is a winning solution. Both Michael and myself have acted as dealers to get to know this product and I must say we both had much fun doing that – and our guests as well."
WestSpiel offers an extensive entertainment programme for its customers. Such events include Lady's Night and the After Work Party. "We have built the Dealer Assist BlackJack into our events. We offer tournaments on it, providing prizes for those who have the most points after twenty minutes of play. This has proven very popular and has made the Interblock solution even more popular amongst our guests".
"Our thanks reach out to the entire management team at Casino Duisburg", concluded Mr. Torben Kreienbrock, Sales Manager for Spirit Gaming. "They were very enthusiastic and willing to get to know Dealer Assist BlackJack. They possess the foresight to correctly view the contribution this innovation from Interblock can bring to the casino floor and how this ultra-modern solution reflects how modern, diverse and innovative Casino Duisburg is – and so helping to strengthen its stance in the German casino market."
Caption: Michael Wiebeck and Jochen Braun from WestSpiel and Torben Kreienbrock from Spirit Gaming