By
Phil
- 21 November 2023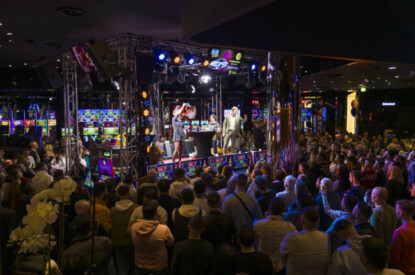 A flurry of camera flashes, glitz, glamour and top-class stars. On Saturday, December 2, 2023, the Merkur Casino Duisburg will roll out the red carpet and mutate into the entertainment epicenter of the Ruhr area.
On this evening, national celebrities flock to Germany's largest casino to experience first-hand how the record-breaking live event Big Casino Gameshow thrills the crowds. None other than Bruce Darnell, Cathy Hummels, Katy Karrenbauer, Manuel Cortez and Arne Löber have announced their attendance.
"Our game shows have delighted many thousands of guests this year. In Duisburg we are now celebrating the crowning end of the year of the casino show tour with truly outstanding celebrity guests. We can expect a spectacular casino event that has never been seen before," assures David Schnabel, Managing Director of Merkur Spielbanken NRW.
The game show evening promises not only to be a showcase of Duisburg's urban society, but also brings real stars to the Ruhr area. Kicking off the guest list is TV superstar Bruce Darnell. The choreographer known from Germany's Next Topmodel will be back in front of the camera with Dieter Bohlen for the RTL hit show Das Supertalent in a few days and will make the red carpet in Duisburg glow. He is supported by Cathy Hummels. The successful entrepreneur and presenter gives the energetic event her very own touch. Actress Katy Karrenbauer has also announced that she will be very close to her homeland. The actress, who became famous as Walter from the RTL series The Women's Prison, was born in Duisburg and travels to her hometown exclusively for this event. Fellow actor Manuel Cortez will also attend the extravagant evening. Hot or Scrap expert and Storm of Love star Arne Löber will be live on site and personally convince himself of the entertainment highlight that the Big Casino Gameshow promises.
When actor and presenter Lukas Sauer finally takes the stage at 10 p.m. on Saturday evening, it's time to turn on the spotlight! The charming show master invites the guests to a hot game show dance, at the end of which one lucky winner can look forward to the guaranteed special prize of 10,000 euros.