By
Phil
- 2 August 2021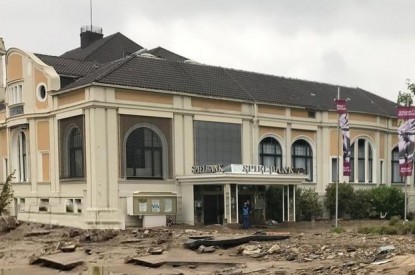 With estimated damage of between €7m to €8m, the chances of the casino in Bad Neuenahr ever reopening following the floods in the German state of Bad Neuenahr-Ahrweiler is in serious doubt.
The casino building is located directly on the banks of the River Ahr with the damage being so bad it is questionable whether there will still be a future for the casino in the spa town.
The casino's Managing Director Michael Seegert said: "We are in the process of saving what can still be saved."
Whilst the upper floor remained untouched by the destructive force of the water, the slot rooms were flooded up to the ceiling whilst the cellar is still full of water. The casino was set up for the possibility of flooding. In 2004 and 2005, the protection along the Ahr was strengthened so that the river could have risen 25 centimeters above the highest level ever measured.
Mr. Seegert now questions whether it is still justifiable to operate a public facility in such a place, in which 500 to 600 guests are staying. On the night of the disaster itself, the casino realised very quickly that something bad was unfolding.
"We decided very early, at 8 p.m., that we would close at 10 p.m. at the latest. Otherwise the game would have run until 2 a.m.," said Mr. Seegert.
In the short term, the operator will expand its offerings at its nearby Nürburgring casino with the hope of finding an interim solution with the state, district and city at some point. The casino's 75 permanent employees, are now all on short-time work, none have been laid off.
Over 200 people were killed when heavy rainfall caused river banks to break in western Germany and Belgium, with Ahrweiler being the hardest-hit area.