By
Phil
- 14 September 2022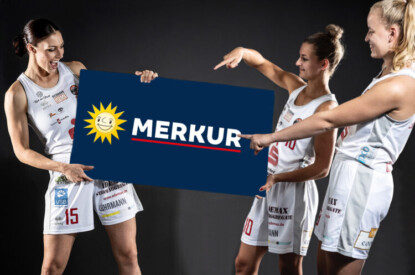 The Gauselmann Group and the GiroLive Panthers have started their first season together with the East Westphalian family business signed up as the new premium partner of the women's basketball team from Osnabrück.
"The Gauselmann Group is an enthusiastic supporter of sport, even beyond regional borders. By sponsoring the GiroLive Panthers, we want to strengthen our commitment to both basketball and women's sports. The GiroLive Panthers have been playing first-class for years and we want to help ensure that their outstanding performance receives even more attention and support from the public," explained Nils Rullkötter, Senior Manager at the Board of Management for Marketing, Communication and Politics of the Gauselmann Group.
As part of the premium partnership, which was initially concluded for one year, the Gauselmann Group is present with its umbrella brand Merkur on various advertising spaces. In addition to the prominently placed floor sticker on the pitch, the smiling Mercury sun shines on the jersey trousers, on matchday flyers and posters as well as on the website of the GiroLive Panthers.
Sascha Bartsch, Managing Director of Osnabrücker SC, added: "A good and sustainable cooperation with our partners is very important to us. The Gauselmann Group is an internationally active company that maintains its attachment to its homeland and has made a name for itself as a committed and successful sports sponsor. This makes the Gauselmann Group a valuable asset for our sponsor network."