By
Phil
- 20 December 2018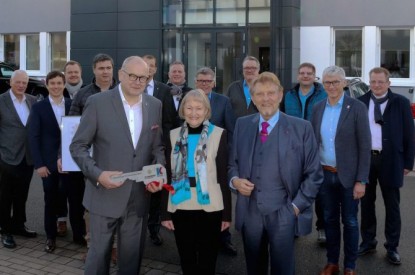 After just 12 months of construction and an investment of E4m, the new office building of the Gauselmann Group in Merkur Allee at the end of September was handed over to future users, the "Spielbetriebe" division under the direction of Dieter Kuhlmann, member of the Management Board.
Richard Grobecker, Head of Merkur Immobilien, was more than satisfied with the punctual completion by the construction partner Kögel Bau from Bad Oeynhausen.
"After all, we had to cope with more than 40 bad weather days during the construction phase," saidthe project manager.
Entrepreneurs Paul and Armin Gauselmann were especially happy that the bottleneck on office space was finally over. Christel Senckel, Espelkamp's first deputy mayor.
The three-storey administration building with a total area of ​​2,500 square meters is being used by the Spielbetriebe business division, which in addition to around 700 venues in Germany and other European countries, also includes ten state-licensed casinos, five casinos on cruise ships and four online casinos in licensed markets. Around 8,500 of the more than 13,000 employees of the Gauselmann Group work in this division. The continuous growth in this business area demanded more space in the company – so the idea to create a new office complex in Espelkamp was born.
The new building offers up to 130 jobs in 50 offices. The building, which covers an area of ​​1 000 square meters on the ground floor and the first floor, measures 20 meters in depth and 50 meters in length. The built-up area of ​​the 2nd floor covers 700 square meters. Although the look of the new building is adapted to the existing objects, the completely glazed entrance area has also set new accents.
For the planning of the new building, the usage needs were explicitly queried and determined in advance. Whether it was about the latest media technology in the transparently designed conference rooms, the creation of communication corners or usable space for copiers, archives and coffee kitchens – all wishes and requirements were incorporated into the floor plan drawings. On the upper floor, floor-to-ceiling windows ensure a light-filled and overall friendly atmosphere. The climate and environmental protection was also exemplary taken into account: All the requirements of the Energy Saving Regulation were even more than fulfilled in this new building.