By
Phil
- 8 September 2014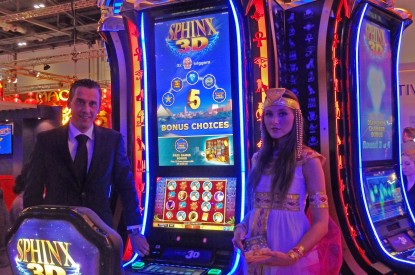 GTECH's award-winning SPHINX 3D game is now live on casino floors throughout Europe. The SPHINX 3D game made its European debut throughout Germany with installations at all nine of the Spielbanken Bayern properties in Bavaria.
Casinos in Italy, Spain, Cyprus, Estonia, Latvia, and Slovenia have also implemented the game, with more European countries to soon follow. The United States also went live with SPHINX 3D installations across various states including Las Vegas, Nevada.
"The preliminary feedback we have received from players at promotional events where SPHINX 3D is live has been extremely positive," said GTECH International Vice President of Commercial Gaming Marcel Heutmekers. "Players are enjoying the 3D effects, as they enhance the typical gaming experience and add an extra level of excitement. We are looking forward to installing these machines in more casinos around the world in the months to come."
The SPHINX 3D game is the first of its kind to use a glasses-free 3D display, and the first game released as part of GTECH's True 3D line. It pairs autostereoscopic technology with eye- tracking that constantly adjusts the image based on the player's line of sight. This generates a high-resolution image that leaps off the screen, creating an experience unlike any other game on the market. The game runs on the AXXISTM cabinet, which creates a sense of personal space and maximizes player comfort. The cabinet, combined with the True 3D technology, produces an all-encompassing 3D experience.
"We're very pleased about the launch of the SPHINX 3D game in each of our nine casinos," said Staatliche Lotterieverwaltung Bayern Vice President Josef Müller. "The product looks great and customers immediately take to the machine's unique features and functionality. Players are very impressed when they see the 3D effects for the first time, and their reaction shows that we made the right decision by adding the SPHINX 3D game to our casinos."
The latest European installations include Casino di Sanremo in Italy, which is the first Italian venue to offer its players the SPHINX 3D game, and the two HIT Casinos Perla and Park in Nova Gorica, Slovenia.