By
Phil
- 28 February 2023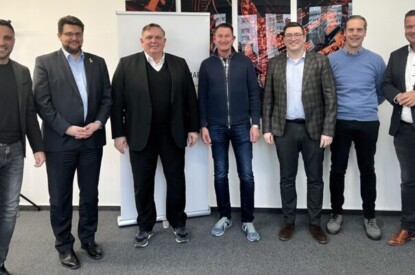 Members of the CDU parliamentary groups from Mecklenburg-Western Pomerania, Brandenburg and Saxony-Anhalt were guests at the umbrella organization Die Deutsche Automatenwirtschaft e. V. (DAW) in Berlin.
The delegates were welcomed by Georg Stecker, spokesman of the board of the umbrella organization DAW, and the 1st chairman of the Association of Vending Machine Merchants Berlin and East Germany e. V. (VA) and President of the Federal Association of Vending Machine Entrepreneurs (BA), Thomas Breitkopf, as well as the DAW country representative Dr. Johannes Weise.
With a view to the different gambling hall legislation in the individual federal states, the state politicians were given a vivid insight into the consequences of poorly done regulation using the example of the state of Berlin. In a round trip organized by Dr. Johannes Weise, it could be shown that where legal gambling halls are closed, mostly illegal gambling offers in the form of café casinos characterize the streetscape.
Georg Stecker presented the current challenges facing the industry: "The parliamentary consultations on gambling hall legislation have now come to an end in most federal states. This shows very clearly that wherever there has not been a sense of proportion according to qualitative standards, illegal gambling offers shoot up like mushrooms. A phenomenon that is no longer confined to metropolitan areas. We are observing this development with great concern and are therefore pleased if special awareness is being developed at the state political level."
Thomas Breitkopf also accompanied the tour as an entrepreneur working in Berlin, Brandenburg and Saxony-Anhalt: "Illegality has de facto displaced the legal market in Berlin. The few remaining gambling halls are far from being able to comply with the channelling mandate of the State Treaty on Gambling. The Berlin joint operations of police and regulatory and financial authorities are showing initial successes against organized crime in the field of illegal gambling. Ultimately, however, nothing changes in the fact that people interested in gambling in the capital have hardly any opportunities to play in a protected and controlled environment."
Caption: Daniel Peters, MdL; Tobias Krull, MdL; Georg Stecker; Thomas Breitkopf, Franz-Robert Liskow, MdL; Dr. Johannes Weise; Sebastian Ehlers, Member of the Bundestag